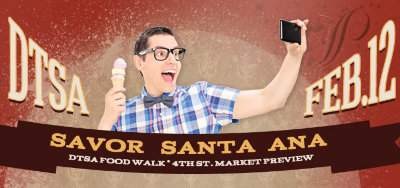 What can $10 buy you?  Well it can buy you two pepperoni pizzas at Fast 5 Pizza, or two delicious tortas at El Pollo Norteno, or even two awesome hamburger combos at In N' Out Burgers.
But on Thursday, Feb. 12, 2015, from 5 to 9 pm, that same ten dollar bill can buy you five bites of your choice from over 25 restaurants and eateries in Downtown Santa Ana (DTSA) at this year's Savor Santa Ana event.
This event will preview the 4th Street Market, and showcase new eateries.  And perhaps offer an opportunity to mourn the impending closure of Diego's Downtown.
Restaurant Tastings and 4th Street Market
Old Fashioned Trolley
DTSA Farmers' Market
Live Music, exploring and hanging out
Cool craft beers and cocktails for the adults
Apparently there will be a trolley available so you can tool around DTSA while you eat your five bites.
TICKETS: Click here.