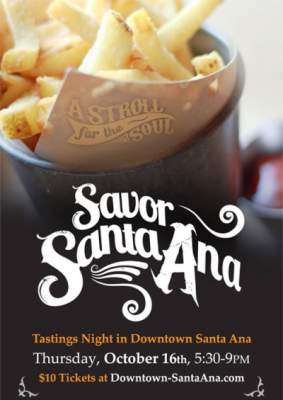 You've been reading about Downtown Santa Ana or maybe even checked out one or two new award-winning restaurants and venues. Coming this October, Savor Santa Ana lets you sample a rainbow of DTSA restaurants all in one glorious epicurean evening.
At Savor Santa Ana on Thursday, October 16 from 5:30 PM to 9 PM, pick up a booklet of 12 tasting tickets for $10. With your booklet and a route map in hand, you will be free to walk DTSA's tree-lined brick sidewalks on a lovely autumn evening to exchange your tickets for your most-wanted food tastings at local eateries. Exchange tickets for local art and other goodies, too!
Start your Savor Santa Ana experience at the Ticket & Info Booth on Spurgeon Promenade (located on Spurgeon between 3rd and 4th Streets). There you can buy ticket booklets and pick up a route map. The Ticket booth opens at 5 PM on Thursday, October 16. Explore Downtown Santa Ana's culinary and arts district on a night of tasting and experiences!
Advance tickets available online at Downtown-SantaAna.com for will-call pickup at the Ticket Booth. Each Booklet is $10 and includes 12 Tickets.
More info at Downtown-SantaAna.com.
Savor Santa Ana will occur at the same time as the new DTSA Farmer's Market. You'll have a chance to browse the Farmer's Market's amazing array of fresh foods and handcrafted desserts, pop-up restaurants and beverages.
Savor Santa Ana is produced by Downtown Incorporated with support from Santa Ana Restaurant Association and Delilah Snell, the producer of the famed Patchwork handmade craft festivals.
Often compared to Portland, Brooklyn or Austin, Downtown Santa Ana is an independent and unexpected urban center for Orange County where visitors and locals enjoy the cutting edge of Orange County's emerging arts and farm-to-table restaurant, craft beer and cocktail scenes.
About Downtown Inc.:
The mission of Downtown Incorporated is to facilitate the enhancement of Downtown Santa Ana as a vibrant shopping, entertainment, business and cultural destination for all.
Downtown Inc. presents: Savor Santa Ana
DATE/TIME:  Thursday, October 16, at 5:30 pm-9:00 pm
LOCATION:  Downtown Santa Ana,  Spurgeon St. (between 3rd and 4th),  Santa Ana, CA, 92701,  213-268-4924,  http://www.downtown-santaana.com
COST/REGISTRATION:  $10 for 12 tickets, buy online or at the event.  https://www.eventbrite.com/e/savor-santa-ana-tickets-13108811809
MORE INFO:  Website: http://www.downtown-santaana.com, Email: info@downtown-inc.com, Phone: 213-268-4924,  Contact: Ryan Smolar
CALL FOR PARTICIPATION
Call to Nonprofits: We're offering nonprofits a $1 donation plus a $1 discount for each ticketbook they help sell. Contact us to develop a promo code that when entered, will save your stakeholders $1, and also get $1 donated to your organization.
Call to Local Businesses: Contact us to sponsor Savor Santa Ana, or encourage employees to attend, help promote onsite at your business, send an email on our behalf.
Call to Local Artists/Artisans: Contact us if you want to provide a sensual experience to visitors: write them a poem, make them a craft, etc.
###