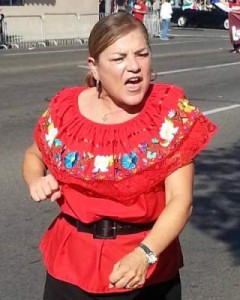 For Immediate Release: September 19, 2014
For More Information Contact: Maria Unzueta – mobile: (657) 464-4742
CONGRESSWOMAN LORETTA SANCHEZ ISSUES ENDORSEMENT STATEMENT FOR JOSE SOLORIO IN STATE SENATE RACE
Congresswoman Sanchez Says She and Solorio Agree on Making College Access and Affordability a Priority
Santa Ana, CA – Congresswoman Loretta Sanchez issued a formal endorsement for Jose Solorio as her choice in the 34th State Senate District. Sanchez's endorsement is key in the district which includes a large portion of Congresswoman Sanchez's district. Congresswoman Sanchez's district includes all or parts of Santa Ana, Garden Grove, Anaheim and Orange.
"I'm supporting Jose Solorio because we both believe in fighting to protect everyone's right to a good education. Jose and I believe that higher education should be a real option for all students. As a State Assemblyman, he wrote laws to help eliminate price-gouging on school textbooks. He also fought to protect $35 million for local schools and championed efforts to cut college tuition up to 40% for middle-class families," says Congresswoman Sanchez. "I recently introduced the 'Middle Class Chance Act' to combat increasing college costs by helping students pay for college with a strengthened Pell Grant."
Sanchez adds, "Everyone should be able to reach the American dream of accessing quality and affordable higher education. I am proud that we have that shared goal and I wholeheartedly support Jose Solorio for State Senate."
"I'm proud to have the endorsement of Congresswoman Sanchez. She's always advocated for the needs of students and working families in Central Orange County," says Solorio. "She also brings fresh energy to everything she backs, and I'm excited to have her as part of Team Solorio as we get-out-the-vote this November."
The 34th district includes all or parts of the communities of Anaheim, Fountain Valley, Garden Grove, Huntington Beach, Long Beach, Los Alamitos, Midway City, Rossmoor, Santa Ana, Seal Beach and Westminster.
Jose Solorio is the President of the Board of Trustees for the Rancho Santiago Community College District, which oversees Santa Ana College and Santiago Canyon College, and represents 700,000 residents in the cities of Anaheim, Garden Grove, Irvine, Orange, Santa Ana, Tustin, and Villa Park. Prior to that, he represented the cities of Anaheim, Garden Grove and Santa Ana in the State Assembly for six years. He holds a bachelor's degree from UC Irvine and a master's degree in public policy from Harvard University. To learn more about Jose Solorio and his State Senate Campaign, please visit Facebook.com/Solorio4California, Twitter.com/JoseSolorio, and SolorioForSenate.com.
###