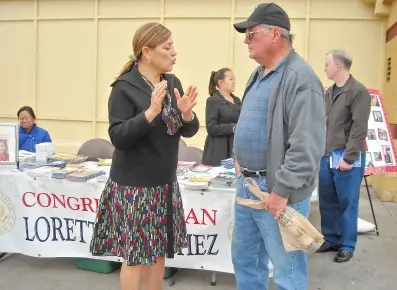 I wrote a post here this week asking if Sanchez was going to change the way she meets the public – and she responded today in an email to her constituents, that she intends to continue to appear in public, at her "Congress on Your Corner" events, despite the recent shooting in Tucson, Arizona, that took the lives of six people and badly injured Congresswoman Gabrielle Giffords.
Dear Friends,
Saturday's tragic shooting that took the lives of six innocent people and wounded thirteen others, including Congresswoman Gabrielle Giffords, is still hard to comprehend. Americans across the country are grappling with difficult questions: why did this tragedy occur and what, if anything, could have been done to prevent it? All we know for certain is that we are a nation in mourning.
As Members of Congress, we are committed to interacting openly and publicly with our constituents. Like Rep. Giffords, I hold "Congress On Your Corner"-type events in my district to hear directly from the people I represent, whether they agree with me or not. This is not only a responsibility, but an integral part of our country's democratic process. My colleagues and I are committed to remaining accessible to our constituents while taking appropriate steps to protect the communities we serve.
As we attempt to comprehend this horrible event, please know that my office is always available if you have any questions or concerns regarding Congressional events, public safety, or any other issue. Please continue to keep Rep. Giffords and her family, friends, and constituents in your thoughts and prayers. I am heartbroken by the devastation of so many innocent lives.
Very Truly Yours,
Loretta Sanchez