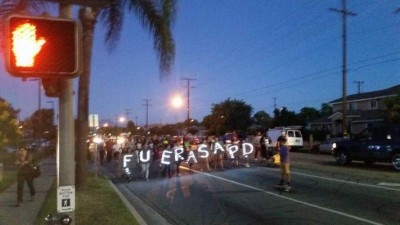 Protesters marched on McFadden Street last night in opposition to the SAPD and the OCDA's gang injunction in the Townsend Street neighborhood.
The SAPD did themselves no favors when they recently raided and tried to destroy an unlicensed medical marijuana dispensary.  The cops on that raid helped themselves to marijuana edibles and said awful things about an amputee – not realizing that they were being videotaped.
The bad cops and the Santa Ana Police Officer's Association filed a lawsuit last week in Orange County Superior seeking to prevent Santa Ana police internal affairs investigators from using a hidden camera video from a May 26 raid at Sky High Collective to determine if department policies were violated, according to the O.C. Register.
While the behavior of some SAPD cops is beyond deplorable the reality is that our city has been under siege by local gangbangers for some time and the violence has escalated over the past year.  Many residents say that the worst thing about living in Santa Ana is the threat posed by our violent street gangs.
The SAPD's problems have escalated in part because the City Council hired a police chief, Carlos Rojas, who had no executive experience, to head up one of California's largest police departments.  And the SAPD continues to be undermanned.
What say you?  Are Santa Ana's cops really worse than our local gangs?
[cardoza_wp_poll id=21]