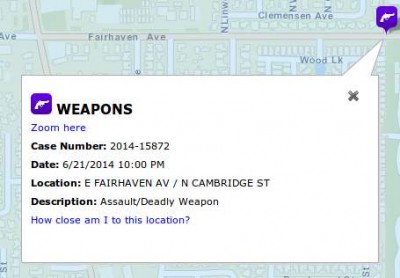 XXXXX XXXX, from the Young Square Neighborhood, took her dog out for a run on Saturday night, June 21, 2014, when she noticed that there was a male and female Hispanic couple in front of her.  Little did XXXX know that the couple was soon going to come under fire in what turned out to be a horrifying drive-by shooting in normally tranquil north Santa Ana.
The man was walking his bicycle while his female companion walked next to him.  XXXX was behind them, in front of the Lake Park Mobile Homes, closer to Linwood. They were about 50 feet ahead of her, heading toward Cambridge. All of a sudden a medium-sized dark car with several people in it approached from the other direction (westbound on Fairhaven). When the people in the car saw the couple they slowed down and made a U-Turn to pull up next to them and slowed way down. The guy with the bike raised his hand like he knew them and in response they immediately opened fire with what XXXX thought was a 9mm handgun. They shot off 5 rounds before their car pulled away.
The couple that had come under fire were jumping around avoiding getting shot and were very fortunate that none of the bullets connected with them. XXXX stood there with her dog and at first she was stunned, thinking it was all some sort of joke but knowing deep down it wasn't because she saw the flash of the gun 5 times.
The couple ran towards XXXX and said "Did you see that?! They were shooting at us!!"  XXXX said "Was that real??" to which they replied "YES! They tried to run us over with their car earlier today!!! CALL THE POLICE!!!"
XXXX yelled "Did either of you get shot?!" to which they said "No!"
XXXX then noticed that the car was making a u-turn to come back toward the couple (the attackers had driven down Fairhaven, through Cambridge's light and then made a u-turn in front of the cemetery).  XXXX told the fellow that the car was coming back so he dumped his bike and jumped over the fence into a resident's back yard.
Once the car then turned up Cambridge instead of coming back down Fairhaven the victim jumped back over and took off toward Grand Avenue with his girlfriend trying to run behind him.
The police came, closed off that side of the street and CSI came and took pictures and collected all 5 casings. The police said that the guys at the barber shop near Big Lots confirmed that they had heard 5 gunshots as well as what XXXX had witnessed.
XXXX reported, on the Park Santiago Neighborhood's Nextdoor website that she found the shooting to be "totally and completely surreal."
The shooting was not reported to the media by the Santa Ana Police Department but it was reported by CrimeMapping.com.
Had XXXX started running where I normally do, she would have been directly next to the couple, between the shooter and them.
XXXX reported that "the police were surprised to come to our neighborhood for this type of incident. I hope they don't have to come back for this again, it was WAY too scary."