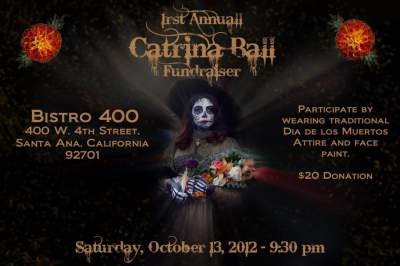 You can support this year's Santa Ana 2012 Noche de Altares (Day of the Dead/Dia de los Muertos) event by attending the first annual Catrina Ball at Bistro 400, at 9:30 pm.  Bistro 400 is located at 400 W. 4th St., in Downtown Santa Ana, by the Federal Courthouse.
El Centro Cultural de Mexico and Calacas are among those who are organizing the Noche de Altares event.  They apparently turned down a $10,000 donation from Downtown, Inc., the association that manages the money that is taken from Downtown Santa Ana property owners and spent by a select board.  Bravo to El Centro and Calacas for turning down this dirty money!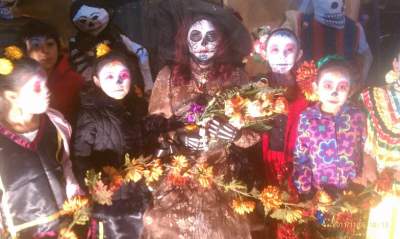 You can participate in the Catrina Ball by wearing the traditional Dia de Los Muertos attire and face paint.  A $20 donation is requested.