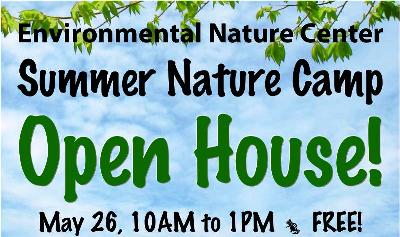 ** MEDIA ALERT **
CONTACT: Lori Whalen, Director of Education, Environmental Nature Center, lori@encenter.org, 949-645-8489
ENC PRESENTS Summer nature camp open house
WHAT: The Environmental Nature Center (ENC) will host a Summer Camp Open House to showcase its eight-week summer camp. The Open House is free to attend.
WHO: All are invited. The ENC encourages families to walk the nature trails and participate in activities with the Camp Teachers and Junior Naturalists.
WHEN: Saturday, May 26, from 10 a.m. to 1 p.m.
WHERE: 1601 16th St.
Newport Beach
WHY: Visitors participate in Free Activities including:
o Make a cloud in a jar.
o Make nature rubbings.
o Visit the Butterfly House.
o Hike the "Un-nature Trail"
o Launch a "poppin' rocket"
o Follow a water droplets journey.
o Experiment with surface tension.
o Make a volcano and cause it to erupt.
o Learn about states of matter and sublimation with dry ice.
o See and touch live reptiles, amphibians, arthropods and mammals.
o Learn to make string and use pump drills like the Native Americans did.
EDITOR'S NOTE: To pre-arrange interviews or for more information, contact Lori Whalen at 949-645-8489 or lori@encenter.org
# # #