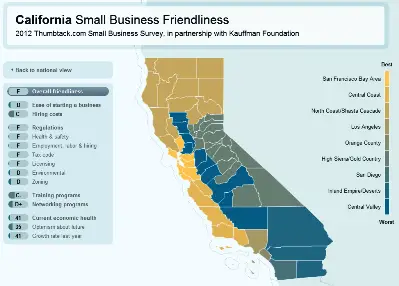 Press Release
Small businesses rate California among nation's worst for small businesses
Orange County small businesses healthiest, most optimistic about the future
"I think California has gotten a lot of bad press for its negative treatment of businesses. I do not see that in any way. What I do see is a very competitive market (with an emphasis on "very")."
– Photographer, Yorba Linda
San Francisco, CA, 5/28/2012, 2012: Today Thumbtack.com, in partnership with the Kauffman Foundation, has released new data showing that small businesses rank California among the least friendly states for small business. California earned F's in 6 of the 12 categories ranked, and the three worst cities nationwide for small businesses are all in California. However, Orange County was a bright spot in the state, with small businesses rating themselves the healthiest and most optimistic about their economic future.
There are a lot of "business climate rankings", but there aren't any that draw upon considerable data from small business owners themselves. The Thumbtack.com Small Business Survey is the only survey to draw data from an extensive, nationwide universe of job creators and entrepreneurs themselves in order to investigate the best places in the country to do business.
"After a two-month survey of over 6,000 small business owners nationwide, it's clear that California is failing in the eyes of its small businesses," said Sander Daniels, co-founder of Thumbtack.com. "Orange County is doing its best to lift up the state, but it's difficult to overcome the damage done by California's other regions"
Some of the key findings for the region include:
California's stand-out regions were the Bay Area and the Central Coast. Small businesses ranked the Bay Area as the most supportive region in the state of small business, and the Central Coast ranked the least costly for hiring a new employee. The state's worst regions for doing business were San Diego and the Central Valley. Of all of California's regions, San Diego businesses were the least optimistic about their economic future – and the Central Valley ranked worst for both support of small business and cost of hiring a new employee.
Here's how California's regions ranked, from healthiest to least healthy small business: 1. Orange County, 2. High Sierra/Gold Country, 3. San Diego, 4. North Coast/Shasta Cascade, 5. San Francisco Bay Area, 6. Central Coast, 7. Inland Empire/Deserts, 8. Los Angeles, and 9. Central Valley.
Small businesses rated California as having the second-least friendly tax code of all states nationwide.
Surprisingly, women-owned small businesses in California felt significantly more supported by the state than their male counterparts. Female entrepreneurs were 37% more likely than male entrepreneurs to rate California as "supportive" or "very supportive" of small business.
Although California struggled overall, it ranked well for one important category. When compared against its neighbors in the West, California is the region's #4 least-costly for hiring a new employee.
The full survey results can be seen here and include full sets of rankings, dozens of easily searchable quotes from California small businesses, regional comparisons within states, and Census data comparing California's key demographics against those of other states.
"There are so many hoops to jump through. I have to get a license for one thing, another license for a slight variation on something else, and there are so many fees. A person, like myself, who hardly makes any money has to pay so much in taxes and to the license fees that are the same for $10,000 made or $20,000. The individual cities all want business licenses which makes more red tape and fees."
– Personal trainer, Orange
Survey methodology
Thumbtack.com surveyed 6,022 small businesses across the United States. The survey asked questions about the friendliness of states towards small business and about small business finances, such as:
"In general, how would you rate your state's support of small business owners?"
"Would you discourage or encourage someone from starting a new business in your state?" and
"How would you rate your company's financial situation today?"
Thumbtack.com and Kauffman ranked states and cities against one another along 15 metrics. The full methodology paper can be found here.
What is Thumbtack.com?
Thumbtack.com is a place where you can hire help locally. Need a DJ, carpenter, boot camp instructor, or hot dog truck caterer? Tell us what you need, and we'll bring you 3-5 bids on that job to your email inbox within 24 hours. More than 275,000 small businesses and freelancers have listed their services on Thumbtack nationwide.