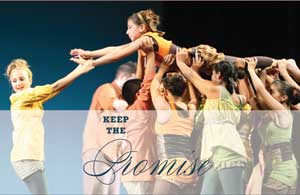 The Saint Joseph Ballet presents their "Keep the Promise Wine Tasting Benefit," on October 1, 2009 at 6pm.
Twelve rare and exquisite wines hand-picked from around the world will be featured during this inspiring evening that features an opportunity drawing and a performance by Saint Joseph Ballet youth. 
The headliner is the 2002 Chateau D'Yquem Sauternes from Bordeaux France, for which Wine Spectator says, "Everyone should have the chance once in their lifetime to taste this, best in the world Sauternes." 
All proceeds benefit Saint Joseph Ballet, a leading non-for-profit youth arts organization in Orange County.  Tickets are $150 a person and may be purchased online by clicking here, or by calling Ellen at 714.541.8314 x24. 
Event Location:  Saint Joseph Ballet, 1810 N. Main Street, Santa Ana, CA 92706.  
Saint Joseph Ballet is also holding their Annual Auditions on Saturday, October 17th, from 8:30am – 1:00pm.  For more information please call 714.541.8314 ext.28 or click here.
Founded in 1983, Saint Joseph Ballet is a nonprofit organization that provides dance, academic and family programs to low-income youth in Orange County, California. Saint Joseph Ballet students graduate from high school and attend college at a significantly higher rate than their peers. Youth who participate with Saint Joseph Ballet gain the tools they need to create brighter futures for themselves and their families