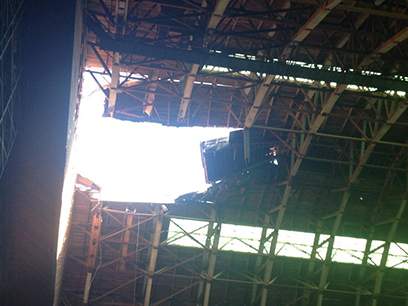 Todd Spitzer Inspects Partial Collapse of Hangar Roof at Former Marine Corps Air Station Tustin
By Orange County Supervisor Todd Spitzer
On Monday, October 7, a portion of the roof caved in and collapsed at the historical landmark North Blimp Hangar at the former Marine Corps Air Station Tustin, located in the Third District. The hangar roof was left with a 625-square foot hole. The hangar was designed and built in 1942 during World War II and is mostly made of wood. It covers more than 5 acres and stands over 17 stories tall.
"I have championed saving the hangar because of its history, but we must work with the Navy to ensure the hangar is safe before it is conveyed to the County," Supervisor Todd Spitzer said. "The public should not be harmed and the County should not be held liable for a federal structure."
There were no injuries reported during the roof collapse; however, an experimental airship, known as the Aeroscraft, was damaged. Designed by Aeros Corp for the military, the Aeroscraft has an estimated value of $35-$40 million. The extent of the damage to the Aeroscraft is not currently known. Orange County Fire Authority hazardous material crews were called to the scene due to helium being leaked from the aircraft.
The long term plan is for the former air base to be turned into a park once the property is turned over from the United States Navy to the County of Orange. Currently, the Navy owns the hangar and holds the lease agreement with Aeros Corp.
OC Parks and Supervisor Spitzer have held two townhall meetings with the residents of Tustin to discuss the future of the hangar and base with more than 500 residents attending each meeting. They were previously featured in this newsletter in April and May.
OC Parks is continuing with its work on the General Development Plan for the Regional Park and will be working closely with the City of Tustin and the U.S. Department of the Navy as the assessment of the damage to the hangar proceeds.