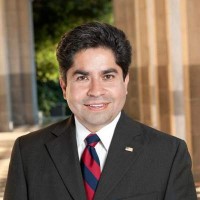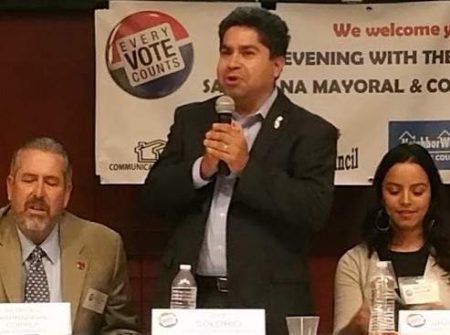 Former Santa Ana City Councilman and State Assemblyman Jose Solorio is not taking his latest campaign, for the Santa Ana City Council's Ward 3, lightly, He has quietly collected a slew of top endorsements, including:
Santa Ana Police Officers Association
Orange County Professional Firefighters Association
SEIU – USWW (Justice for Janitors)
Plumbers & Steamfitters, Local 582
United Association, Local 250
IBEW, Local 441
Heat & Frost Insulators, Local 5
Ironworkers, Local 416
Ironworkers, Local 433
Planned Parenthood of Orange and San Bernardino Counties – Community Action Fund
Democratic Party of Orange County
I had a chance to hear Solorio in action at this week's Com Link Candidates Forum. I really like his stance regarding crime statistics. It is a shame that our City Council and SAPD Police Chief Carlos Rojas refuse to publish the SAPD's crime log. Other cities, including Anaheim, Fountain Valley and Irvine, all make their crime data available to their residents. So does the O.C. Sheriff. Solorio is the only City Council candidate who has made crime transparency an issue.
Solorio also likes to remind us that he was once a State Legislator. He knows how to bring both State and Federal money to Santa Ana. The truth is that our city does have immense problems and that extra money won't hurt.
Solorio is building a massive campaign for Ward 3 that is quite unprecedented. He does have a lot of competition – and there is a good chance that dark horse candidate Ana Urzua Alcaraz might prevail as the only woman in the race. But don't underestimate Solorio. This is definitely not his first rodeo!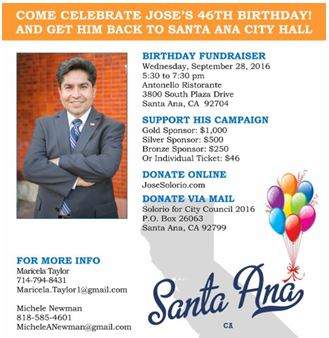 Solorio is hosting a birthday fundraiser on Wednesday, September 28, 2016, from 5:30 to 7:30 pm at
Antonello Ristorante, which is located at 3800 South Plaza Drive, in Santa Ana. I like that he is hosting his fundraiser here in Santa Ana. His opponent David De Leon is hosting his first fundraiser in Fountain Valley! That says all you need to know about De Leon.
You can RSVP for Solorio's fundraiser to Maricela Taylor, 714-794-8431, Maricela.Taylor1@gmail.com or
Michele Newman, at 818-585-4601 or MicheleANewman@gmail.com. Or call Jose Solorio himself at 714-514-6233 or Jose@JoseSolorio.com.
The other candidates for Ward 3 include: