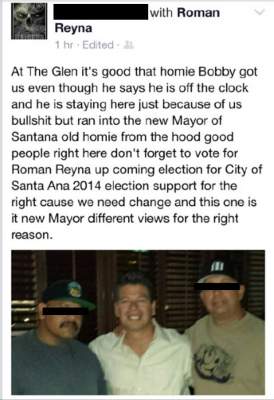 This year's General Election is coming up very quickly, on Nov. 4.  Time is running out for Santa Ana Mayoral challenger Roman Reyna, who has been under fire for weeks over a picture that emerged on Facebook depicting Reyna with two of his "homies" who were identified by the Santa Ana Police as dangerous members of a criminal enterprise.
It is by now a forgone conclusion that Reyna is going to lose and lose big – unless his bizarre coalition of gang bangers and high density apartment developers can somehow steal the election.
The question now is when should those who want to restore order at Santa Ana's City Hall start planning to recall Reyna from the City Council?  And is former Mayor Pro Tem Claudia Alvarez eligible to return to Reyna's Ward 5?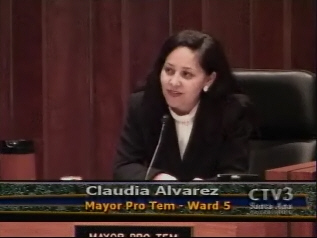 Alvarez might be Reyna's worst nightmare.  She destroyed him by a 2-1 margin when he challenged her in the 2004 election.  She ended up with over 26,000 votes while Reyna only garnered 10,720 votes, according to Smart Voter.
As a respected Deputy District Attorney, Alvarez would be in a great position to hammer Reyna on his gang connections.  He would have nowhere to hide.  She can also speak to the importance of education, as a current Trustee on the Rancho Santiago Community College District's Board of Education.
Santa Ana's voters have previously recalled a bad politician – Nativo Lopez, who once ruled over the SAUSD School Board.
Reyna had a chance to dig himself out of the hole he finds himself in but he blew off the Santa Ana Police Officers Association.  They now want him to step down from the Council altogether – and he most certainly should withdraw from the Council's Public Safety Committee.
We will find out just how toxic Reyna is now on Nov. 4, where there is a good chance that he will drag down Councilwoman Michele Martinez and Councilman David Benavides.
I would imagine that if Pulido beats Reyna by at least 25% the recall papers will be served on Reyna in December.