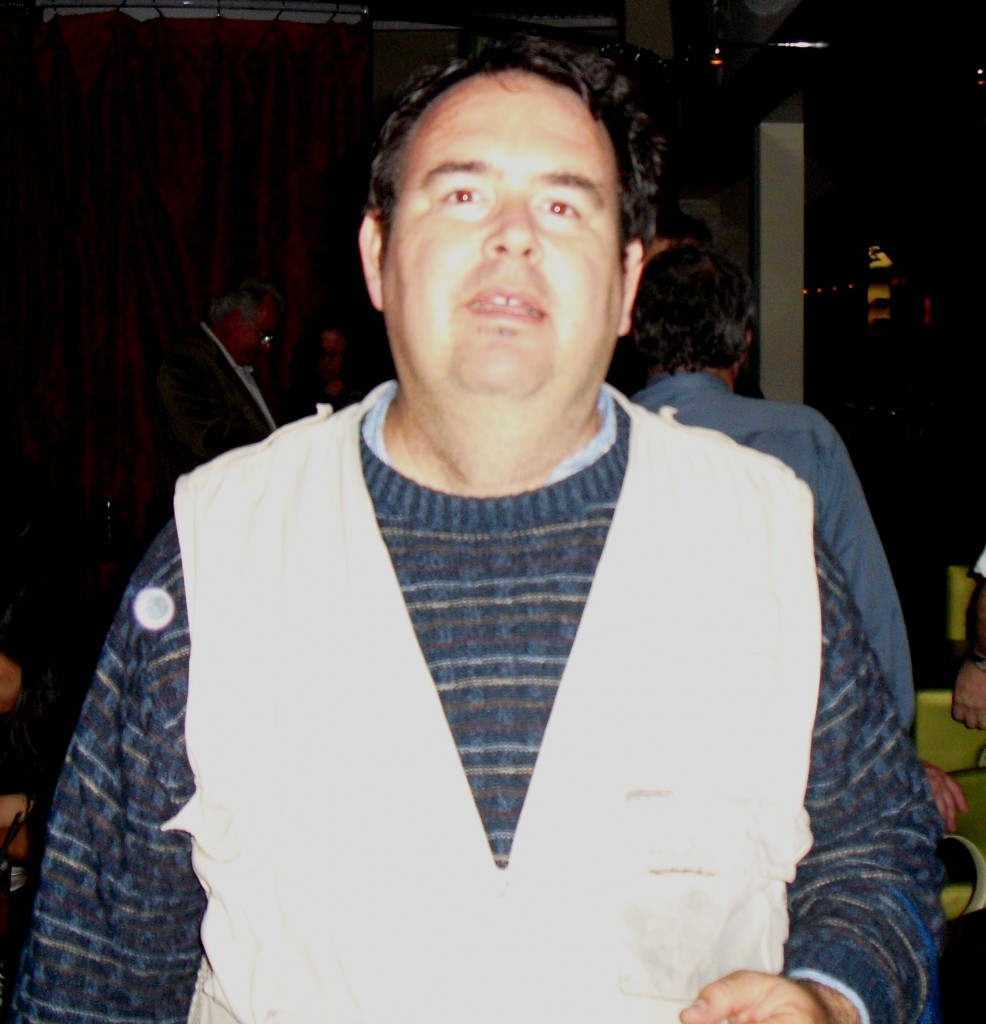 In 2006, Lucille Kring couldn't beat Jon Aiken – how will she beat State Senator Lou Correa?
Republican Lucille Kring, who is a member of the Anaheim City Council, has decided to run against State Senator Lou Correa, over in the 34th State Senate District, which includes Santa Ana and Anaheim.
Kring won a seat on the Anaheim City Council in 2006, defeating incumbent Councilman Richard Chavez.  Bob Hernandez also won a seat on that council in 2006, getting a few more votes than Kring did, according to Smart Voter.  Chavez was damaged by numerous scandals but he still came in just .02% of the vote behind Kring.
Kring ran for Mayor of Anaheim in 2002, losing to Curt Pringle by over 4,000 votes, according to Smart Voter.  And she also won a seat on the Anaheim City Council way back in 1998, when she was the top vote-getter, with 24.8% of the vote, according to Smart Voter.  Back then there were no Latinos in that council race, which tells you that Anaheim has changed a lot over the past decade.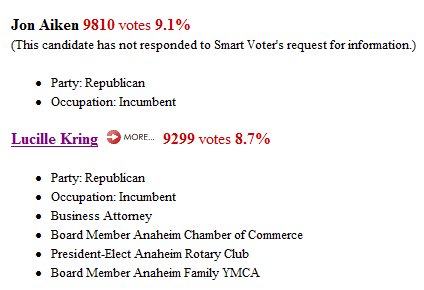 Kring also barely won a seat on the OC GOP Central Committee, back in 2006 (see the graphic above).  She got the least votes of the six victors in the 68th Assembly District, according to Smart Voter.  The 34th State Senate District includes both the 68th Assembly District and the neighboring 69th Assembly District, which Correa previously represented before moving on first on the O.C. Board of Supervisors then later to the State Senate.
Here is a question to ponder.  How did Kring come in behind quirky Republican volunteer Jon Aiken in that Central Committee election?  The editor of the local Red County blog, Matt Cunningham, is touting Kring's chances of defeating Correa, but in an intra-party election, just two years ago, she almost lost and came in behind Aiken.  No bueno!
Cunningham also thinks that Kring will be the new Lynn Daucher.  But, as others have pointed out, when Daucher barely lost to Correa in his first State Senate race, they both were elected officials.  He was on the O.C. Board of Supervisors and she was an Assemblywoman.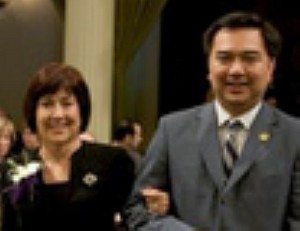 Daucher also had significant help in her campaign from Assemblyman Van Tran.  There is no question that Tran got her a lot of Viet support – and it was almost enough to beat Correa. 
Tran named Kring as his "Woman of the Year," last year.  But how much will Tran help Kring this year when he is in the fight of his life in a crowded GOP primary for the 47th Congressional District?
Correa has learned from his past errors and today he is very popular in the Vietnamese community.  He was at the Tet Parade this year and I personally saw that he was very warmly welcomed.  I have also observed many Viet residents and activists at Correa's district meetings and fundraisers.
Kring did very poorly in the 68th District, which includes Little Saigon, when she barely won a seat on the OC GOP Central Committee.  That tells you straight away that she is terribly weak in that area and won't likely do well at all with Viet voters, who don't know her but do know Correa.
Cunningham also believes that Correa will suffer at the polls because he voted for last year's state tax increase.  Well, he is a Democrat and the Democrats are by far the majority in the 34th State Senate District, where the Republicans have lost ground over the years.  I don't think Correa has anything to worry about!
Correa is now the incumbent State Senator.  I fully expect him to steamroll Kring.  I have no idea why she would even run against the very popular Correa.  She might as well launch herself into a brick wall!
UPDATE: Matt Cuningham has posted an article over at Red County wherein he slams us and says that Jon Aiken is developmentally disabled.  I have been a friend of Jon's for over twenty years.  I have NEVER thought he was disabled in any way.  He is a quirky guy but he is very wise and he is the hardest working GOP volunteer you will find.  The point of this post is that Jon, a totally unknown guy, was able to beat his party's nominee for the 34th State Senate District, even though she has been in politics for as long as I have known Jon.  If anything, the OC GOP should have recruited Jon instead of Kring.  Apparently the voters prefer him!  Pay no heed to Cunningham.  He is a paid shill and he will do anything to get Kring elected so he can get his "bonus."  I think he owes Jon an apology!