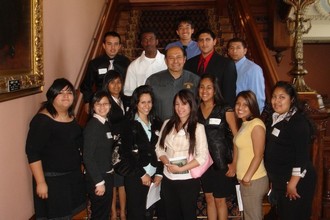 Senator Lou Correa and the United Mexican-American Veterans Association are celebrating the 2010 Women's History Month with a "Women Making A Difference Awards and Tea Reception" on Thursday, March 18, from 4:00 – 6:00 PM at the Rancho Santiago Community College District headquarters, located at 2323 N. Broadway, in Santa Ana.
Maria T. Solis-Martinez is being recognized as the Woman of the Year, by Senator Correa.
Maria retired from the US Air Force.
Is on the Board Member for American GI Forum, and
Is a long-term Member of UMAVA (United Mexican-American Veterans Association)
The following outstanding women are getting recognized by CA State Senator Lou Correa as "Women Making a Difference" alongside other outstanding women of Orange County:
Judge C. Eileen Moore – 2nd Lt US Army Nurse Corps, Combat nurse in Vietnam (1966) – (with a special recommendation by Pastor Frank Orzio, UMAVA Chaplain)
Kristen Kavanaugh, Capt-US Marines and a business professional in Orange County.
Leonor Barajas, US Army (during Korea); member of LULAC and UMAVA
Maria T. Solis Martinez
Nelida Yanez, US Army (former Commander of UMAVA & Treasurer for MANA of OC)
Nellie Kaniski, US Marines-retired, UMAVA Board Member & Executive Director for MANA of OC
The program includes a cup of tea, refreshments, legislative updates and inspiration.  The program will also include a keynote address by Captain Maria M. Lanfor.
Please RSVP by email to Claudia.Ornelas@sen.ca.gov or call (714) 558-4400, by March 16.