Operate Openly with Trust and Integrity
by Senator Bob Huff
The news that union organizers with the Orange County Labor Federation are working to deliberately misinform parents about the truth regarding California's Parent Trigger law should come as no surprise. Those who support the concept of school choice and the supposedly "radical" idea that every California child deserves the best education we can give them have been fighting entrenched union interests since Governor Schwarzenegger signed the Open Enrollment Act into law.
The Open Enrollment Act was a cornerstone of President Obama's ambitious "Race to the Top" education reform effort that swept the nation nearly eight years ago. The President's goals for reforming our public education system, which former Senator Gloria Romero and I supported, was the implementation of educational policies like performance-based evaluations for teachers and principals, support for charter schools and turning low-performance schools into education powerhouses.
Not surprisingly, the various school unions who represent adults, and not children, have fought us every step of the way. The biggest battle in California has been fought over the Parent Trigger Act, which allows parents to take control of failing schools and institute reforms designed to help students.
Unions don't like this law because it threatens their stranglehold over the education system. It gives parents the ability to intervene in their child's school if it is performing poorly. With enough signatures from parents, any number of actions can be taken against low performing schools. These can include converting it to a charter school, replacing some of the school's administration and faculty or closing the school altogether.
We first learned of union attempts to misinform parents about this law when my office was approached by a group of parents from Palm Lane Elementary in the Anaheim City School District last year. They expressed concerns regarding the school's academic performance and requested assistance from my office.
In 2013, the California Department of Education reported that Palm Lane Elementary School had an Academic Performance Index (API) score of 746. This represented a drop in performance when compared to previous years. The school was ranked in the bottom 20 percent of California schools.
Parents, who demanded answers from the Anaheim City School District Board, were instead met with silence. Worse yet, they were misled. When Palm Lane parents attempted to meet on public school grounds and work for positive change, they were denied entry. Instead of working with parents, the school district did everything it could to oppose the Parent Trigger petition. They refused to work with them. They openly lied to them instead. They used scare tactics to discourage parents during the entire process.
Justice would eventually prevail, but it took a court order from Orange County Superior Court Judge Andrew P. Banks to overturn efforts by the Anaheim City School District Board to block the Parent Trigger process and turn Palm Lane Elementary into a charter school.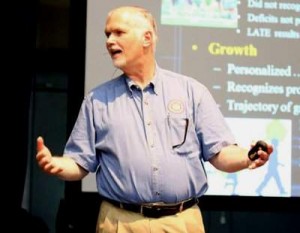 The message last year from Judge Banks was fairly clear. Unfortunately, the Orange County Labor Federation (OCLF) chose not to listen, as they are now working in conjunction with the Santa Ana Unified School District (SAUSD) to actively discourage parents from pursuing the same reforms that Palm Lane Elementary parents pursued last year.
It's not as if the SAUSD doesn't need the help or parent involvement. The district has more failing schools — and a higher percentage of failing schools — than any other Orange County district. Only 28 percent of SAUSD tested students read at levels considered to be "proficient." Math scores are even worse. With scores like that, what parent wouldn't want to get involved? Why would anyone oppose that involvement?
Recently, SAUSD parents reported that during the monthly meeting of the Parent Advisory Committee, there was a briefing on the Parent Trigger Act. But they had no idea that the presenter of this information would not be a credible staff member, legislative author or outside expert. Instead, the briefing was conducted by a high-ranking member of a union that is committed to reversing pro-student reforms like the Parent Trigger Act.
The mission of the SAUSD Superintendent, which is spelled out on the district website, is to "operate openly with trust and integrity." But it appears that Superintendent Rick Miller sees nothing wrong with letting a union organizer openly mislead parents about a state law that is designed to serve them and the best interest of students.
Senator Bob Huff is the Senate Minority Leader Emeritus and represents the 29th Senate District. Follow Senator Huff on Twitter @bobhuff99.