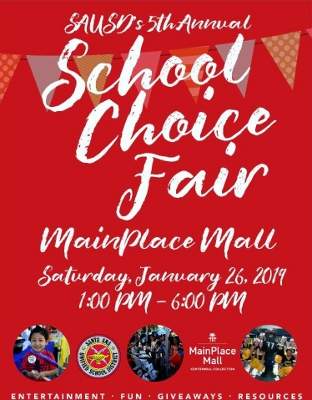 SANTA ANA, CA (Jan. 25, 2019) – The public is invited to learn about the variety of programs offered by the Santa Ana Unified School District (SAUSD) during the 5th Annual School Choice Fair from 1 to 6 p.m. Saturday, Jan. 26, 2019 at MainPlace Mall in Santa Ana.
Representatives of 55 SAUSD schools and 11 SAUSD-related programs will provide information to the community about the District's award-winning campuses and wide selection of programs, including STEM, early learning, dual language, Speech & Debate, and Visual and Performing Arts, in addition to its 34 career pathways, nationally ranked culinary program, and more. In addition, 18 school music groups – ranging from chamber singers, to dance teams, to mariachi groups – will provide entertainment throughout the day.
MainPlace Mall is at 2800 N. Main St., Santa Ana, CA 92705.
For photos from last year's School Choice Fair, click here.
Founded in 1888, the Santa Ana Unified School District is the 7th largest school district in California and the largest school district in Orange County. The District educates approximately 50,000 students at 57 schools throughout the city of Santa Ana. Approximately 60% of District students are English learners with Spanish being the most common language, and approximately 91% of the student population is eligible for free and reduced-price meals.