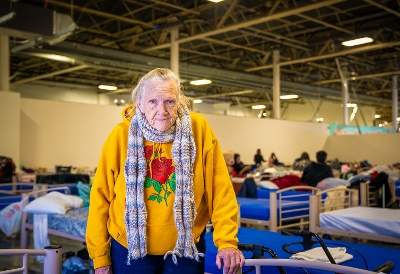 Advisory: Santa Ana Concludes "Operation Safe Passage," the Latest Effort to Help Homeless Get Off Streets and Into Shelter
SANTA ANA, CA – On January 23, 2019, the City's Homeless Evaluation Assessment Response Team (H.E.A.R.T.) concluded "Operation Safe Passage," the latest citywide effort to contact homeless individuals and ensure they have access to resources and/or shelter beds. The six-day operation saw Santa Ana police officers make contact with over 400 homeless individuals throughout the City, referring 37 to two Santa Ana homeless shelters: The Courtyard and The Link. For a full summary of Operation Safe Passage, please visit https://infogram.com/operation-safe-passage-1h0n25p831qo6pe.
In December 2018, the City conducted "Operation Dignity," which focused on reaching out to homeless individuals in visible, public spaces. The January 2019 "Operation Safe Passage" was a more involved effort, as teams sought out homeless individuals in less-accessible areas, such as underpasses and railroad tracks. The City's Quality of Life Team (QOLT) also assisted in area clean-up and bulk item disposal after homeless individuals were directed away from the area.
"We view these Operations as a mixture of tough love and compassion. Winter is one of the most dangerous times of year for our homeless population, so we are doing everything in our power to locate those without shelter and make it available to them," said Santa Ana Police Chief David Valentin. " Community members, business owners and Federal Judge David O. Carter, who currently oversees a case involving the County's response to homelessness, have passed along their thanks for the tremendous job the Santa Ana Police H.E.A.R.T and City's Quality of Life Teams did during Operation Safe Passage. Judge Carter said, "he has never seen the City look better'."
Like much of California, the City of Santa Ana has struggled with the issue of homelessness for years. In early 2018, the City counted a total homeless population of over 1,600 people–more than 1,000 of those without shelter. At the same time, U.S. District Court Judge David O. Carter was imploring all Orange County cities to create more shelter beds or risk forfeiting their right to enforce "no camping" ordinances.
The City responded to Judge Carter's challenge by pledging to build a 200-bed interim homeless shelter, later named "The Link." From the time a 35,000-square-foot site was designated to opening The Link's doors for service, the City and its partners had built this interim homeless shelter in just 28 days. The Link launched in mid-November 2018; as of January 22, the "bed count" (the number of beds filled that night) at The Link was 143.
"Santa Ana has dedicated an incredible amount of support and coordination between law enforcement, City staff, City partners, and homeless shelter operators," said Mayor Pro Tem Juan Villegas. "We know our efforts are not done, but it has been heartwarming to see some of the most vulnerable people in our community getting the help and shelter they need."
The City of Santa Ana especially thanks the Santa Ana Police Department H.E.A.R.T., CityNet, Illumination Foundation, Mercy House, and the Orange County Health Care Agency (HCA) for their ongoing support in referring homeless individuals to the City's shelters. The HCA and H.E.A.R.T. have also formed a joint Psychological Emergency Response Team (P.E.R.T.) to effectively provide assistance to individuals with mental illness and/or substance abuse problems. In just a little over two months, these groups have referred over 290 homeless individuals to resources and shelter at The Link.
About City of Santa Ana
Santa Ana is downtown for the world famous Orange County, California. As the County Seat, home to a vibrant evening scene and one of the most diverse communities in California, Santa Ana is gaining national attention for its efforts to innovate and address a changing County. Over 1,200 City employees work hard every day to deliver efficient public services in partnership with our community to ensure public safety, a prosperous economic environment, opportunities for our youth, and a high quality of life for residents. Learn more at http://www.santa-ana.org.