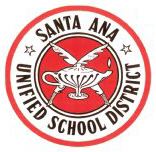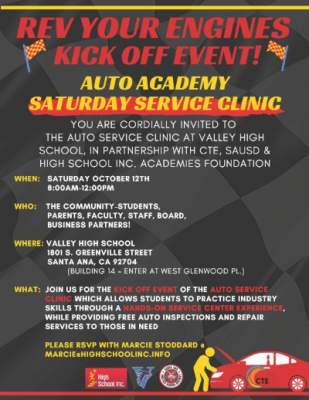 (Oct. 11, 2019) Students in High School Inc.'s Automotive Transportation and Logistics Academy at Santa Ana Valley High School will inspect and repair autos for free during the Saturday Service Clinic from 8 a.m. to noon Oct. 12, 2019 at the school, 1801 S. Greenville St. in Santa Ana.
Students will practice industry skills by assuming roles found in more than 122 car dealerships in Orange County, and working on autos in individual bays, under the supervision of instructors.
Students will fill various roles, from Service Manager to Shop Foreman, while customers wait in a classroom for their vehicle to be fixed.
Services will be provided to residents in need on a first-come, first-served basis. The clinic will be held the first Saturday of the month for the duration of the 2019-20 school year.
The idea for the clinic surfaced two years ago, when a resident asked students for assistance in fixing her car, which car had stopped running. The students pushed her car to the school, and stayed late to make the necessary repairs.
The ATL Academy at Santa Ana Valley High School is the first high school in Orange County to be accredited by the NATEF, meaning that students have the opportunity to earn entry-level certification through the Automotive Service Excellence Organization and a Light Maintenance Repair Certification (LMR).
Students also have the opportunity to complete internships at local auto dealerships, complete classes that transfer to a community college or university, and participate in industry-sponsored competitions.