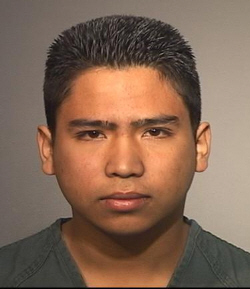 Santa Ana Police Department
SANTA ANA POLICE SEEK THE HELP OF MEDIA AND COMMUNITY TO APPREHEND SHOOTER IN MURDER THAT OCCURRED 7-22-2011
Santa Ana Police Gang Homicide Detectives are seeking the public's help with locating a suspect wanted in connection to a murder that occurred on 7-22-2011.
On 7-22-2011 at 2235 hours, officers were dispatched to 327 E. Washington Ave, for a shooting that had just occurred.  Upon arrival, officers found a 16 year old who had been wounded by gunfire.  Santa Ana Paramedics transported him to Western Medical Center, Santa Ana where he was pronounced dead upon arrival.
During the ongoing investigation, Detectives were able to identify and arrest Juan Galvan, 19 of Santa Ana as one of the suspects involved in the murder. Follow-up investigation has identified Suspect Jesus Canales as the shooter in the incident.  Canales is a documented gang member with a violent criminal history.  Detectives to date have not been able to locate the suspect Canales and are requesting the public's assistance in obtaining information as to his whereabouts. Suspect Jesus Canales should be considered armed and dangerous.
The Suspect: Jesus Canales: Male Hispanic 18, Black Hair, Brown Eyes, 5-6, 175 (see attached photo)
The Santa Ana Police Department is offering monetary rewards for information leading to the arrest of gang homicide or felony gang assault suspects.  Anyone with information about this or any gang homicide or felony gang assault suspect may call 714-245-8648