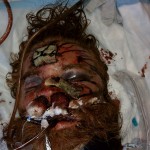 Fullerton P.D. victim Kelly Thomas will be remembered with an altar at the Art Walk on Saturday
Santa Ana's Art Walk is going to go in a few new directions this Saturday, August 6.  I am told that an altar to Kelly Thomas, the homeless man killed by the Fullerton Police Department, will be set up at the Santora Building.  And, for the first time ever, there will be an effort to expand the Art Walk to the East End Promenade, which will be celebrating its grand opening on Saturday.  The East End Promenade is on Spurgeon St. between 3rd & 4th Streets.
By the way, can anyone tell me why the media is not giving credit to the Friends for Fullerton's Future blog for breaking the Kelly Thomas story?  The OC Weekly and the Voice of OC have chimed in with accolades for what the editor of the FFF blog, Tony Bushala, did to keep this story alive – but the mainstream media has ignored him, for the most part, and at least one purportedly liberal blog not only ignored Tony they also gave credit to the wrong Fullerton Council Member.  Tony's ally on the Fullerton Council, Bruce Whitaker, was the first one to go after the Fullerton P.D.  In fact Tony and his allies are now starting a recall to get rid of the retired cops on the Fullerton City Council, and maybe their lame Mayor, Dick Jones, too.
At any rate, this Saturday you can explore galleries and studios at Santora Building of the Arts, CSUF Grand Central Art Center, Orange County Center for Contemporary Art, East Village Workshops, Empire Building and more
Arts, crafts, and live entertainment centrally located at : East End & Second Street Promenades.  Parking is available on 3rd & Broadway, additional parking on 3rd & Birch and 4th & Spurgeon
The First Saturdays Art Walk is a year-round, monthly event in Downtown Santa Ana.  This Saturday you can also enjoy:
Downtown Inc. encourages all local artists to participate in this and all other Downtown events.  This includes artists of all medias, musicians & bands, performers, dancers, and more.
For more information, contact : 714.547.6100 ext. 205