SAPD Police Chief Carlos Rojas has not only lost the war on crime in our city – he has also lost the support of his own police officers.
Rojas, who was hired by our City Council with zero executive experience (primarily because he is a Latino), inherited a police department that his predecessor, Chief Paul Walters, had built into one of the top police departments in the entire country. Walters, who is now Chief of Staff to Orange County Supervisor Lisa Bartlett, always worked well with his police officers.
Rojas, on the other hand, has antagonized his troops from the start of his rocky term as Police Chief. Many senior police officers retired not long after Walters left. Since then Rojas has found it increasingly difficult to convince police officers in other cities to come to Santa Ana. That is part of the reason that the SAPD is currently down in number by about 100 police officers.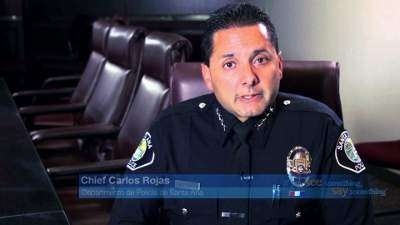 Now Rojas has doubled down on his previous mistakes by refusing to allow the Santa Ana Police Officers Association to distribute their newsletters, or any communication at all, to their members. This is an outrageous act that should not be tolerated by our Santa Ana City Council.
Our City Council normally works well with all of our public employees unions. But in this case they are allowing Rojas to censor his own cops!  It is unprecedented.
Under Chief Walters the SAPOA could always distribute any memo from their leadership to their members. This is a common practice with most unions. In fact the local teachers association is able to place written materials in the SAUSD teachers' in boxes any time.
Rojas has specifically prohibited the SAPOA from distributing memos or any communications through the SAPD's email system.
I cannot imagine what Rojas is thinking. If a Police Chief cannot rally his troops he cannot lead. This might be part of the reason that Rojas has totally failed to do his job as crime skyrockets out of control in our city with almost daily shootings and even brazen daytime robberies of our local businesses.
We are all in danger because Rojas is not a leader. No one wants to work for him and he seems incapable of fighting crime. He got his job only because he happens to be a Latino. This is disgraceful!
For this to happen in an election year is very bad timing for the City Council. Several of our City Council members are up for reelection this November. You can bet that the SAPOA will not be backing any of the City Council incumbents!