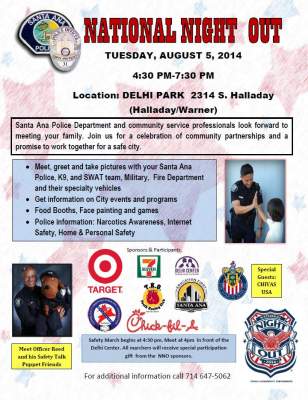 National Night Out is set for Tuesday, August 5, 2014 from 4:30 to 7:30 pm at Delhi Park, located at 2314 S. Halladay, at Warner, in Santa Ana.
The Santa Ana Police Department (SAPD) and community service professionals will be celebrating community partnerships and a promise to work together for a safer city.
Meet, greet and take pictures with your Santa Ana Police, K9 dogs, SWAT team, Military, Fire Department and their specialty vehicles
Get information on city events and programs
Food booths, face painting and games
Police information: Narcotics Awareness, Internet Safety and Personal Safety
TKO Boxing Demos, Emergency Preparedness, 911 Game, Tug of War, Face Painting and much more!
SAFETY MARCH:  Youth groups have been selected to march to start event with Safety Rally. They will begin at Delhi Center at 4 pm, and conclude at puppet show staging area, near the Delhi Park public restrooms.
CHANT: 1-2-3
We want to be
CRIME FREE!
No to drugs, No to gangs
No to people that drive FAST!
Puppet Show immediately following the Safety March. Ofcr. Reed will conduct a Safety Rally w/members of Safety March at the stage area all participants of the safety walk will receive a free goodie bag.
COMMUNITY POLICING OFFICER AWARD: In appreciation for outstanding service to the residents of Santa Ana. Patrol Officer Manuel Delgadillo will be the recipient of this year's award. Award will be presented by the Westend COP Association. Presentation will occur at 6:30 pm.