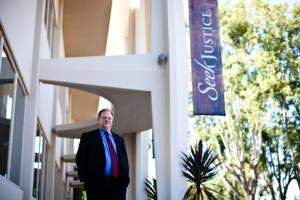 Trinity Law School becomes integral partner with international justice organization
The Dean of Trinity Law School, Myron Steeves, has accepted the invitation to serve on the Advisory Board of G.L.O.B.A.L. Justice, an organization based in Loveland, Colorado dedicated to equipping students and professionals to support advocacy organizations addressing injustices worldwide. Additionally, Trinity Law School will become a partner in the group's Education Consortium.
G.L.O.B.A.L. Justice Founder and President, Sosamma Samuel-Burnett, J.D, says Dean Steeves will be a welcome addition to the board.
"I have respected the work of Dean Myron Steeves and Trinity Law School for a number of years," says Samuel-Burnett. "Dean Steeves' commitment to faith integration, dedication to human rights principles and accomplished legal career will add much to the G.L.O.B.A.L Justice Advisory Board. Also, Trinity Law School's participation in the Education Consortium provides both representation from a highly regarded law school, as well as opportunities to interrelate with a range of other universities for research, commentary, and perspective on global justice issues."
Other notable Advisory Board members include John Andrews, a former president of the Colorado Senate and Denver Post columnist; Linda Chavez, president of Becoming American Institute and Fox News political analyst; the Honorable Larry Gaddis, retired judge of the Placer County Superior Court, along with other prestigious members.
"G.L.O.B.A.L. Justice is an important organization because there is so much that we, in the United States, misunderstand about those who suffer a lack of justice in other countries," says Steeves. "G.L.O.B.A.L. Justice is part of a network of people who are seeking ways to apply their faith to addressing the needs of many around the world who do not have access to justice, and are impoverished, oppressed and discouraged because of that. The fact the G.L.O.B.A.L. Justice seeks to apply Biblical principles to resolving major issues that arise from the law is the right approach and one that we want to encourage."
Myron Steeves is the Dean of Trinity Law School in Santa Ana, California where he has served as a law professor since 1992. A graduate of Georgetown University Law Center, Dean Steeves has practiced law in the nonprofit area, particularly advising churches. Dean Steeves frequently speaks on issues including the integration of faith and law, legal careers as tools for Christian ministry, law and public policy, and law and theology.
About Trinity Law School:
Founded in 1980 as the Simon Greenleaf School of Law, Trinity Law School is a distinctively Christian law school located in Santa Ana, California. It is one of four schools in the Trinity International University system, which is based in Deerfield, Illinois. Trinity Law School is accredited regionally by the North Central Association of Schools and Colleges and accredited by the California State Bar Committee of Bar Examiners. For more information, please visit http://www.tls.edu or call 800-922-4748.
About G.L.O.B.A.L. Justice:
The mission of G.L.O.B.A.L. Justice is to extend geopolitical learning opportunities for biblical advocacy and leadership for students and professional to learn, lead and do justice together. By synergizing principles of justice with sound public policy, creative arts & innovation, and effective economic development, G.L.O.B.A.L. Justice promotes an ethical and collaborative approach to addressing injustices. G.L.O.B.A.L. Justice creates learning and leadership opportunities for students and professionals through linkages with arts, business, education, and other sectors of the community. G.L.O.B.A.L. Justice promotes the initiatives of advocacy organizations that are leaders on a range of justice causes, supports educational programs with universities dedicated to educating on global and justice issues, and offers engagement opportunities for individuals, organizations, and communities. Click here for more information.
###