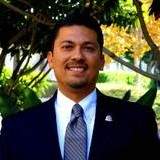 City of Santa Ana, Downtown Orange County
Community: Meet Santa Ana's New Deputy City Manager! / Bienvenido al Nuevo Delegado de Gerente Municipal de la Ciudad
The City of Santa Ana is pleased to announce the recent appointment of Robert Cortez as Deputy City Manager. Robert has been serving as the Special Assistant to the City Manager for over two years, during which time he has completed several significant projects including implementation of the City's Five-Year Strategic Plan, Medical Marijuana Regulatory Program, and Information Technology Strategic Plan. Robert recently participated in a nation-wide recruitment in which he was unanimously selected as the top candidate in the selection process.
Robert began his work with the City in 1999 as an Accounting Assistant in the Parks and Recreation Agency. He promoted through the ranks of finance and budget-related job classifications eventually to the position of Assistant Director of Finance and Management Services and in 2014 he joined the City Manager's Office. During his 17 years with the City, Robert has worked for three different City departments and has been involved in a diverse range of project areas. Robert holds Bachelor's and Master's degrees from the University of Southern California. Raised in Santa Ana, he attended Santa Ana Valley High School and Santa Ana College as well.
In his new position, Robert will coordinate efforts and initiatives in the Community Development and Planning & Building Agencies as well as oversee project areas he is currently assigned. The community is fortunate to have Robert's knowledge and skills continue to benefit both the City Manager's Office and the entire City of Santa Ana organization. Please welcome Robert to his new position and wish him continued success!
++++++++++++++++++++++++++++++++++++++++
Bienvenido al Nuevo Delegado de Gerente Municipal de la Ciudad de Santa Ana
La Ciudad de Santa Ana se complace en anunciar el reciente nombramiento de Robert Cortez como el nuevo Delegado de Gerente Municipal de la Ciudad. Robert ha estado sirviendo como Asistente Especial del Gerente Municipal por más de dos años, y durante ese tiempo ha realizado varios proyectos importantes, como la implementación del Plan Estratégico de Cinco Años de la Ciudad, el Programa de Regulación de Marihuana con fines Médicos y el Plan Estratégico de Tecnología Informativa. Recientemente, Robert participó en una búsqueda nacional de reclutamiento, en la que fue seleccionado de manera unánime como el mejor candidato en el proceso de selección.
Robert comenzó sus labores con la Ciudad en 1999 como Asistente de Contabilidad en la Agencia de Parques y Recreación. Ascendió por los rangos de clasificaciones de programación y presupuesto, para llegar al cargo de Sub-Director de Servicios de Finanzas y Administración, y en 2014 a su cargo en la Oficina del Gerente Municipal. Durante sus 17 años con la Ciudad, Robert ha trabajado para tres departamentos municipales diferentes y ha participado en una amplia gama de áreas de proyectos. Robert tiene una Licenciatura y Maestría por la Universidad del Sur de California. Creció en Santa Ana y asistió a la Escuela Preparatoria Santa Ana Valley y al Colegio Santa Ana también.
En su nuevo cargo, Robert coordinará esfuerzos e iniciativas en las Agencias de Desarrollo Comunitario, y Planeación y Edificios, y supervisará áreas de proyectos actualmente asignados. La comunidad es afortunada de tener el conocimiento y las habilidades de Robert seguir beneficiándose tanto a la Oficina del Gerente Municipal y a toda la organización de la Ciudad de Santa Ana. Demos la bienvenida a nuestro nuevo Delegado de Gerente Municipal, y deseémosle éxito continuo.