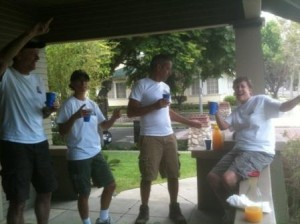 Santa Ana's gay community has formed an organization called "Gay Neighbors, Families and Friends of Santa Ana," (GNFFSA) and they are having a real impact in the city.  From what I could tell searching the Internet, they have been actively engaged now for at least a couple of years.
Their latest email newsletter highlighted a few past and upcoming activities they are involved in, including:
A Certificate of Recognition will be presented to Gay Neighbors, Families and Friends for helping to sponsor the Santa Ana Independence Day Celebration, on July 3.
Santa Ana City Council approval of The Velvet Lounge's request for a Conditional Use Permit (C.U.P.)., which is on the agenda for Monday evening's meeting, on August 1.
The GNFFSA is concerned about the approval of the Conditional Use Permit for The Velvet Lounge is item 31B on the Consent Calendar for Monday night's Council meeting. They hope that "the approval will sail through this time (as it should have last time)."
The GNFFSA promises that a "LGBT presence in the audience should nudge them in the right direction."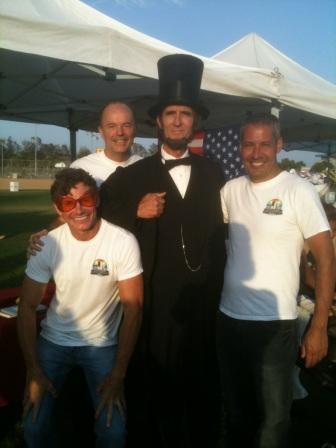 The newsletter mentioned that during the Santa Ana Independence Day Celebration, some of their members took pictures with America's first, or maybe second, gay President, Abe Lincoln, as seen above.
In "The Intimate World of Abraham Lincoln," C. A. Tripp contends that Lincoln had erotic attractions and attachments to men throughout his life, from his youth to his presidency. He further argues that Lincoln's relationships with women were either invented by biographers (his love of Ann Rutledge) or were desolate botches (his courtship of Mary Owens and his marriage to Mary Todd). Tripp is not the first to argue that Lincoln was homosexual — earlier writers have parsed his friendship with Joshua Speed, the young store owner he lived with after moving to Springfield, Ill. — but he assembles a mass of evidence and tries to make sense of it. (Source: New York Times).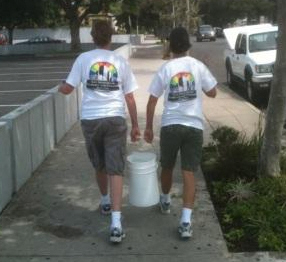 The GNFFSA has also been involved in a few downtown beautification projects.  A group of them watered and weeded the Spurgeon Street project (in French Park) and the Broadway project (between 4th and 5th) recently.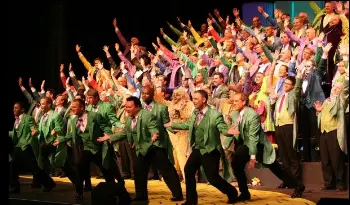 The GNFFSA had a busy week, capped off with the well-attended Men Alive Concert at the Festival Hall and reception in the plaza in front of the Yost Theater on Saturday.
The GNFFSA will be in action again at the next Downtown Concert series on Friday, August 5, from 5-9pm at the French Plaza, where they promise to have "another gay ole time."
I could not find a website for the GNFFSA, however you may click here to send them an email.