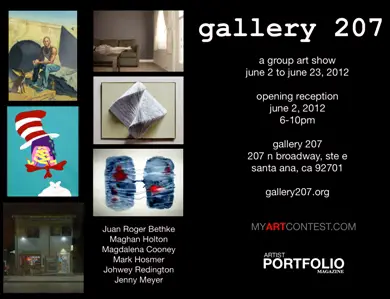 For Immediate Release
Jaydee Dizon, 310.962.4520
Santa Ana's Gallery 207 Showcases International Group Art Show
Gallery 207, MyArtContest.com and Artist Portfolio Magazine are pleased to present to you a Group Art Show of 10 works of art from both emerging and established artists from around the world. Join us at the opening reception Saturday, June 2nd from 6 -10 pm, Second floor of the Santora Arts Buidling Suite E. Congratulations to all the entrants!
Best in Show – Man with Tattoo, 40 Ounce, and a Fox by Juan Roger Bethke
2nd Place – Inadequate Housewife #2 by Meghan Holton
3rd Place – Connection by Magdalena Cooney
Mom & Pop #1/Palm Market by Mark Hosmer
Dr. Shoes by Jenny Meyer
Compassion, Eyes of the Heart Series by Jasmine Collins Villalobos
Fate in the Hands of a Child by Katie Broyles
Opus 6, No. 1 by Johwey Redington
Nerve Tonic by Juan Roger Bethke
Inadequate Housewife #1 by Meghan Holton
The Group Art Show is an eclectic art show of various styles and mediums of art. The art was chosen by jurors Ben Walker and Jaydee Dizon, owners of Gallery 207, from over 130 entries into the International Group Show Art Contest at MyArtContest.com.
Artworks from our Gallery residents and art members also in display: Krystof Andres, Jaydee Dizon, Kenneth Inlow, Ingrid Reeve, Mauro Rosa, and Ben Walker. Welcoming new artist member, Shelly Stokes, a photographer documenting the spectacular '09 Station Fires and mother nature's recovery process nearly 3 years later.
Gallery 207 / Raven Studios
207 N. Broadway Street, Suite E, Santa Ana, CA 92701
Closing Reception: Saturday June 30th, 12-5 PM
Gallery hours: First Saturdays 6-10 PM, Saturdays 12-5 PM
Visit us on the web at http://gallery207.org for more information!
END