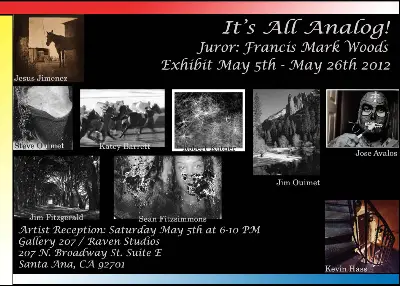 For Immediate Release
Contact: Jaydee Dizon: 310.962.4520                                                          
Gallery 207 Celebrates Film Photography – May 2012
Gallery 207 / Raven Studios celebrates film photography as it is roughly 173 years old from today.  It's All Analog introduces film photographers juried by Francis Mark Woods who is the President of Pasadena Society of the Artists and a former lecturer of American Film Institute (AFI).  Congratulations to the selected artists in our It's All Analog exhibition: Jose Avalos, Katey Barrett, Jim Fitzgerald, Sean Fitzsimmons, Kevin Hass, Jesus Jimenez, Robert Kutner, Jim Ouimet, and Steve Ouimet.  Their analog, alternative process, film-based and hand-printed photographs are showcased at the historic Santora Arts Building second floor, 207 N. Broadway, St. Suite E, Santa Ana from May 5 – May 26.  Join us Saturday, May 5th Artwalk during our artists panels/discussions and a people's choice awards between 6-10 PM.
Also featuring our Gallery Resident Artists:
Caesar Alzate Jr., Mix Medium Artist. Alzate-ism, Post-Color field painting.
Krystof Andres, Photographer & Cinematographer's documentation of the earthquake in Haiti 2010
Jaydee Dizon, Fine Art Photographer.  here and there, a "Kodak" moment from a tourist's mind.
Kenneth Inlow, Artist. His artwork can best be described as Psychedelic-Surrealism.
Ingrid Reeve, Painter.  Abstract Landscape series…"memory of a landscape."
Mauro Rosa, Contemporary Visual Artist.  Mediums of pastel and pig hide are utilized in Mauro's artwork.
Ben Walker, a self taught Artist/Painter.  Love, Sex, Death: A Story About a Nobody series.
Gallery 207 is dedicated in promoting traditional and contemporary artists from Southern and Northern California and plans to build relationships all over the US and internationally in the near future.
Gallery 207  / Raven Studios
207 N. Broadway Street, Suite E, Santa Ana, CA 92701
Closing Reception: Saturday May 26th, 12-5 PM
Gallery hours:  First Saturdays 6-10 PM, Saturdays 12-5 PM
Visit us on the web at http://gallery207.org for more information!
END