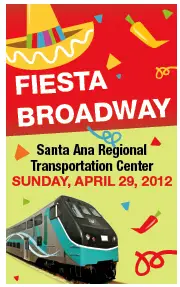 Ride the Train FREE* to the 23rd Annual Fiesta Broadway

Downtown Los Angeles' Fiesta Broadway is one of the largest annual Cinco de Mayo events in the world, with more than 500,000 people expected to attend this year. Skip traffic and take the train there on Sunday, April 29.
Meet us at the Santa Ana Station for a FREE Metrolink ticket and more!  OCTA is kicking off Fiesta Broadway with a celebration at the Santa Ana Regional Transportation Center on April 29. The event, which will take place from 8:30 – 9:30 a.m., will feature:

Free Metrolink tickets to the first 100 people*
An on-site radio broadcast by La Rockola 96.7 FM
Prizes and giveaways
Free parking
Getting to Fiesta Broadway on the train:
Catch the train in Santa Ana after the kick-off event and ride up to L.A. Union Station. Or, board the train from any other station along the Orange County Line! With the Weekend Pass, it will cost only $10. Even better, the pass is valid for travel on Metrolink trains systemwide from Friday night through Sunday!

More information is available at www.octa.net/fiesta.
*A total of 100 tickets will be given away on a first-come, first-served basis beginning at 8:30 a.m. There is a limit of one ticket per person. You must be present to receive a ticket. Tickets are good for Sunday, April 29, 2012 only.