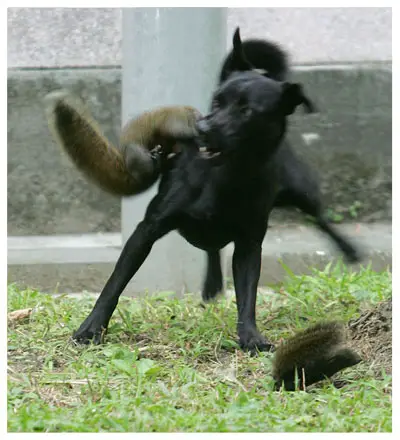 Sometimes the squirrels fight back!
My dog really hates squirrels! And this year we have had a lot of them in our neighborhood.
Today we received a letter from anonymous neighbor threatening to call the police because my dog barks.
How ridiculous. My dog sleeps in the house at night. He barks during the day, but usually only for about five minutes at a time. When he sees a squirrel or when the other neighbor's dogs are out.
I reviewed the City of Santa Ana's dog barking ordinance and sure enough it does not the time of day or the duration of a dog barking. Here is the letter I sent to the City Council Members asking them to review and revise their dog barking ordinance:
Honorable Members of the Santa Ana City Council,
I recently received, in the mail, an anonymous threat from a neighbor who is upset because my dog barks.
For the record, my dog sleeps in the house at night. During the day he has a doggie door so he can do his business in the backyard.
Lately we have had a lot of tree squirrels in the area. Needless to say, the squirrels drive my dog nuts.
My dog is licensed, and we put him through dog training. He is a Jack Russell/Weenie Dog mix. He is quite small but rather hyper.
Does he bark during the day? Sure, but certainly not constantly. He spends most of the time in the house.
I reviewed the city ordinance and found that it is far too vague. Here it is:
Sec. 5-59. Noisy animals.
It is hereby declared to be a nuisance for any person to keep, maintain or permit on any lot, parcel of land, or premises under his/her control any dog or other animal within the city limits which is in the habit of either disturbing the peace and quiet of any person within the city or interfering with any person in the reasonable and comfortable enjoyment of life or property.
(Ord. No. NS-1020, § 1, 7-6-70; Ord. No. NS-2134, § 21, 7-1-91)
Note that this ordinance does NOT mention the time of day. I think if a dog barks on occasion during the day that should be expected. It would be far more troublesome of the dog was barking at night, when folks are trying to sleep.
My dog also barks when my neighbors let their dogs out. The dogs all bark at each other. Again, that is typical of dogs.
I would request that you revisit this ordinance and consider defining it further. Some people are just grouches and are going to complain no matter what anyone else does. Others just hate dogs. They should not, in this case, be able to file ridiculous complaints with the city. If a dog barks occasionally during the day, that should be expected. Barking inordinately at night, on the other hand, truly would be a disturbance of the peace.
I would also ask that you consider mentioning how long a dog should bark before it becomes a nuisance. I would say that more than 30 minutes of continuous barking would indeed be problematic. My dog never barks for that long.
Finally, our police department is already undermanned. If they have to spend precious hours investigating bogus dog barking complaints that will only hurt crime fighting in our city.
Thank you for the consideration.
Sincerely,
Art Pedroza