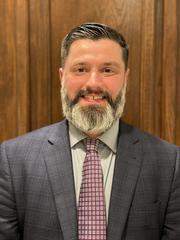 SANTA ANA, CA – Brian Sternberg joined the City of Santa Ana this week as the new Executive Director of Library Services.
Sternberg's arrival sets the stage for renewed growth at the City's libraries, which in the current fiscal year became a standalone department. Among his responsibilities will be overseeing facility upgrades and expanded hours at the Newhope Branch Library.
"I'm looking forward to helping Santa Ana's libraries modernize and evolve to better serve the community," Sternberg said. "Public libraries are an essential cultural resource that not only offer a wide array of books and physical materials, but also should be community anchors that provide hands-on and interactive educational experiences through new and innovative programs and services."
Prior to coming to Santa Ana, Sternberg served as Assistant Library Services Director at the City of Rancho Cucamonga since June 2015. His accomplishments in that role included the development of a regional children's museum inside a local library and providing high-speed broadband service to library customers.
Sternberg also has served in several capacities at the Los Angeles County Library, including North County Regional Administrator for 14 libraries and two bookmobiles, and as Assistant Library Administrator for Public Services, where he provided space-planning expertise and project management support for a number of library refurbishments. A Chicago native, he previously worked as a branch manager and in other roles at the Chicago Public Library.
Sternberg received his bachelor of arts degree in Philosophy and Religious Studies from DePaul University in Chicago and his master's degree in Library and Information Science from Dominican University in River Forest, Illinois. He is a graduate of the California Library Leadership Institute and attended the Planning and Design of Public Libraries Program at Harvard University, Graduate School of Design.
"I'm happy to welcome Brian Sternberg to our wonderful city," said City Manager Kristine Ridge. "His years of experience at public libraries, large and small, and the many new ideas he has brought with him will help to transform our library system."
Santa Ana's first library opened in the 1890s and today the Santa Ana Public Library operates two branches that contain more than 238,000 books, thousands of videos and audio recordings, and numerous other materials.
The Main Library at 26 Civic Center Plaza has a computer lab, learning center and history room, and the Newhope Branch Library at 122 N. Newhope St. has a computer lab, learning center and teen space. Learn more at www.santa-ana.org/library.