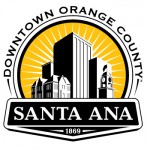 CITY OF SANTA ANA HELPS LOCAL BUSINESSES WITH LOCAL PREFERENCE ORDINANCE 
SANTA ANA, CA (March 6, 2012) – The Santa Ana City Council voted unanimously at its March 5th meeting to give preference to local businesses on qualifying city contracts. "The City Council supports business friendly principles and we're taking active steps to help local companies succeed," said Councilwoman Michele Martinez. 
The ordinance provides a new incentive for local businesses. Santa Ana businesses will be given a 7% preference when they bid on City contracts. And Orange County based businesses can be eligible for a 4% preference. "We help our businesses, as well as the City, when we keep dollars in the community" explained Councilman Vincent Sarmiento. "Studies show that these benefits are multiplied within the community and will have a positive effect for many within the City" added Councilman David Benavides. 
The Local Preference Ordinance applies to all contracts up to $100,000. And, given that the median contract value is $53,130, the ordinance will apply to a majority of City contracts.
There are 92 cities in California that offer preferences, according to a 2010 survey by the California Association of Public Procurement Officials.
The second reading for the approved ordinance is scheduled for the March 19, 2012, meeting and will become effective on April 19, 2012.
###