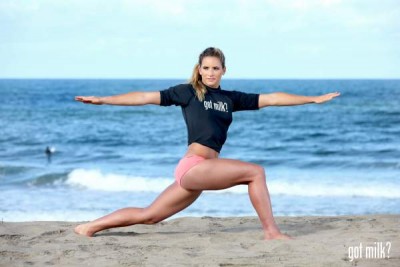 San Clemente, Calif. – Surf fitness has become all the craze at top gyms and boot camps across the nation. Surf-based moves strengthen and lengthen the core muscle groups. Fitness classes can sometimes get expensive and aren't always available everywhere. To show that you don't have to spend a lot to feel like a million bucks, the California Milk Processor Board (CMPB), the creator of got milk?, has teamed up with professional surfer and model Courtney Conlogue, to bring free surf fitness and nutrition tips to all Californians. With her surf-inspired moves and advice, Conlogue promises to help everyone feel great this summer.
"Proper diet and exercise go hand-in-hand," says Conlogue, current Association of Surfing Professionals (ASP) world tour athlete and USA Surf Team member. "My total body workouts will get you in shape and my favorite thirst-quencher, milk, provides the nutrition and power you need to fuel up."
Conlogue adds that surf influenced workouts are quickly gaining popularity this year, both on and off the sand. Combining elements of aerobic fat burning and lean muscle building, her training exercises are a great base for a total body workout. Courtney's go-to moves utilize the core, arms, abs, glutes and legs. Some examples are Plank Drummers with Bosu® or Lunges with Vertical Rotations. Among other exercises recommended by Conlogue are Pushups with Alternate Leg Raises, Reaching Opposites and Lunges with Rotation.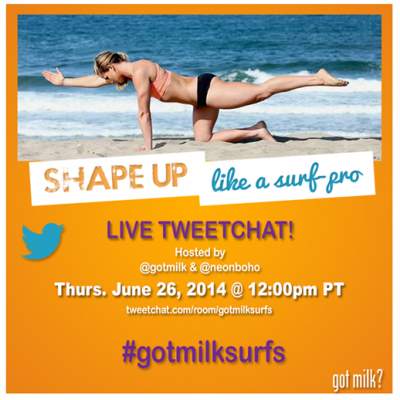 "Courtney incorporates a simple nutrition and fitness routine into her lifestyle that helps her be the star athlete she is," says Steve James, executive director of the CMPB. "Milk is a key part of that for maintaining lean muscles and strong bones."
Including milk as part of a healthy exercise regimen, Conlogue offers five nutrition tips for a strong body this summer:
1.       Fuel Up. Energy reserves are important for maintaining stamina during high endurance workouts. Start your day right. Steel cut oats with milk, dry fruit and nuts are a great way to energize. Snacks and small meals can also help rev up your metabolism during the day.
2.       Keep it Balanced. On your surf board and your plate, balance is key. Your diet should be made up of fresh and wholesome foods like fruits, vegetables, dairy, lean meats and healthy fats like avocado or olive oil. Try a grilled cheese sandwich with tomato; add an apple and a tall glass of milk for a balanced meal on the go.
3.       Protein Rich. Proteins, made up of amino acids, are an essential building block of life. Protein helps the body build and repair muscle, grow and helps organs and cells work properly. Power up with rich proteins such as lean meats, beans, lentils, nuts or a good old-fashioned protein shake. A smoothie a day can provide you with a convenient dose of protein before or after your workout.
4.       Resist Junk Food. Junk food does not contain any useful nutrients. Instead of stopping for French fries pick up some carrot sticks, a handful of almonds or a multigrain bar with milk to keep you going.
5.       Avoid Dehydration. Drink plenty of fluids to hydrate before, during and after workouts. Outdoor exercises under the hot summer sun will deplete your stores faster.
For more info or to access Conlogue's FREE surf fitness tips visit www.gotmilk.com or join Conlogue and @GotMilk for a free Surf Fitness TweetChat #gotmilksurfs, for more details visit www.facebook.com/gotmilk.
###
About the CMPB
The California Milk Processor Board was established in 1993 to make milk more competitive and increase milk consumption in California. Awareness of got milk? is over 90% nationally and it is considered one of the most important and successful campaigns in history. Got milk? is a federally registered trademark that has been licensed by the national dairy boards since 1995. The CMPB's Spanish-language campaign began in 1994 using the tagline "Familia, Amor y Leche" (Family, Love and Milk). The TOMA LECHE (Drink Milk) campaign replaced it in 2006, following a growing trend in Hispanic food advertising that uses wit and humor to reach audiences. Got milk? gifts and recipes can be viewed at www.gotmilk.com and www.tomaleche.com. The CMPB is funded by all California milk processors and administered by the California Department of Food and Agriculture.
About Courtney Conlogue
Conlogue first hit the waves at age four. By 14 she was at the top of the National Scholastic Surfing Association. In 2009 Conlogue won the US Open of Surfing and placed gold at the X Games 13. In 2010 Conlogue continued her gold streak winning at the ISA World Surfing Games. By 2011 she earned her place on the ASP World Championship Tour and was recognized as ASP Women's Breakthrough Performer of the Year. Conlogue ranked 4th on the Association of Surfing Professionals World Championship Tour in 2013 and is an integral part of USA Surf Team. In 2014 ESPN.com named her one of the Top 15 Female Athletes in Actions Sports. In her spare time Courtney dabbles in art and photography and acts as ambassador for SurfAid International, Boarding for Breast Cancer, Surf's Up for Down Syndrome and Operation Amped. For more info on Conlogue visit www.facebook.com/pages/ Courtney-Conlogue/56779089347 or follow her on Instagram @courtneyconlogue and Twitter @neonboho