City of Santa Ana, Downtown Orange County
Community: 17th Annual City of Santa Ana Youth Talent Show / 17a anual de talento de jóvenes de la ciudad de Santa Ana
Summer Ends…But Memories Last Forever – 17th Annual City of Santa Ana Youth Talent Show
The community of Santa Ana continues its traditional neighborhood youth gathering in the spirit of a friendly competition to demonstrate the creative talents in the performing arts.
Youth from the City's Summer Vacation Recreation Programs from the centers of Memorial, Santa Anita, Logan, Garfield, El Salvador, Salgado, and Jerome facilities will be performing on Saturday, August 13, 2016 from 1:00p.m. – 4:00 p.m. at the Salgado Recreation Center.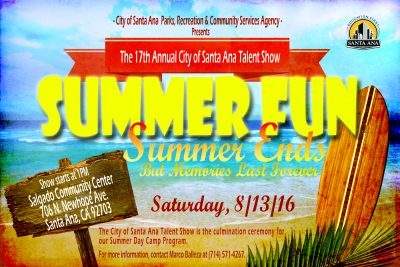 Members of the community can attend this talent show free of charge and enjoy impressive singing, and dancing. From the start of the summer program the youth participants have been practicing for their end of the summer performance. Be a part in witnessing the fun filled summer that these youth had in our summer programs. Endless summer memories will be made at this entertaining talent show from our youth. Attached you will find a flyer of the talent show event.
SALGADO RECREATION CENTER IS LOCATED AT ROSITA PARK:
706 N. Newhope St., Santa Ana, CA 92704
++++++++++++++++++++++++++++++ +++++++++++++++++++++++
El Verano Termina… Pero los recuerdos duran para siempre
17a anual de talento de jóvenes de la ciudad de Santa Ana
La comunidad de Santa Ana continúa con la tradición por la cual los jóvenes locales se reúnen en el espíritu de una competencia amistosa para demostrar su talento creativo en las artes escénicas. Jóvenes del programa de recreación durante el verano de vacaciones en los centros comunitarios de Memorial, Santa Anita, Logan, Garfield, El Salvador, Salgado y Jerome se presentarán el sábado, 13 de agosto de 2016 desde la 1:00 a 4:00 en el centro de recreación de Salgado.
Miembros de la comunidad pueden asistir a este espectáculo de talento gratuitamente y disfrutar de cantos y bailes impresionantes. Desde el inicio del verano, los jóvenes han practicado para sus presentaciones del fin de programa. Sea parte de la diversión que los jóvenes han estado gozando durante el verano de vacaciones. Recuerdos de verano se realizarán en este divertido concurso de talento de nuestra juventud. Adjunto encontrará el volante de programación del concurso de talento.
Centro de recreación de SALGADO se encuentra en Parque ROSITA: 706 N. Newhope St., Santa Ana, CA 92704For full details, view this message on the web.