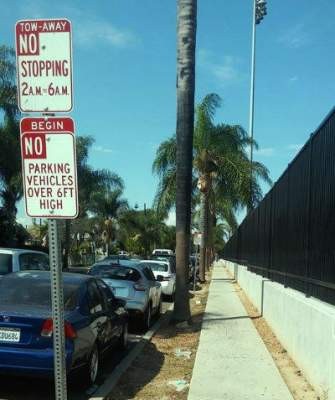 The Santa Ana Police Department and city officials are violating California Vehicle Codes on street sweeping parking citations in instances where there are no posted warnings about the street sweeping parking violations, according to local activist Igmar Rodas.
Rodas says that these violations are being issued by Central Parking, the City's Contracted parking enforcement company that follows the Street Sweepers.  They also issue citations for people that forget to pay the city's parking meters.
Rodas already has two parking tickets which violate a California Vehicle Code and he also received a ticket when his vehicle was not parked at the address the citation was issued at.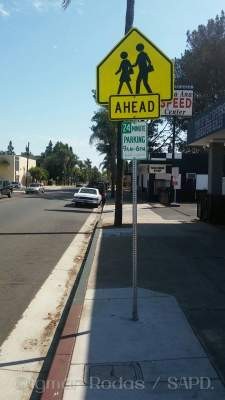 These tickets have become a real problem for Rodas as the DMV has now placed a hold on his vehicle registration by request of Santa Ana City Officials for non-payment of parking tickets.
Here's the California Vehicle Code which Central Parking, Santa Ana Police Department, and The City of Santa Ana are violating by issuing bogus parking citations:
California Vehicle Code section 22507.6 governs the local regulations regarding street sweeping. Essentially, California law only requires posting at the "entrance" block.
Specifically, California Vehicle Code section 22507.6 provides as follows:
"Local authorities may, by ordinance or resolution, prohibit or restrict the parking or standing of vehicles on designated streets or highways, or portions thereof, for the purpose of street sweeping. No ordinance or resolution relating to the parking or standing of commercial vehicles in a residential district shall be effective with respect to any commercial vehicle making pickups or deliveries of goods, wares, or merchandise from or to any building or structure located on the restricted street or highway, or for the purpose of delivering materials to be used in the repair, alteration, remodeling, or reconstruction of any building or structure for which a building permit has previously been obtained. No such ordinance or resolution shall be effective until the street or highway, or portion thereof, has been sign-posted in accordance with the uniform standards and specifications of the Department of Transportation, or local authorities have caused to be posted in a conspicuous place at each entrance to the street a notice not less than 17 inches by 22 inches in size, with lettering not less than one inch in height, setting forth the day or days and hours parking is prohibited. As used in this section, "entrance" means the intersection of any street or streets comprising an area of restricted parking for street-sweeping purposes on the same day or days and hours with another street or highway not subject to such a parking restriction, or subject to parking restrictions on different days and hours."
Here's the Municipal Code regarding Street Sweeping
SAMC Sec. 36-133. – No parking or standing during street sweeping.
(a) No operator of any motor vehicle, and no person who owns or has possession, custody or control of any vehicle shall stop, stand or park such vehicle upon any street in the city that is designated as to days and times for street sweeping during the time period parking is prohibited for street sweeping.
(b) The director is hereby authorized to determine the locations of and to place and maintain, or cause to be placed and maintained, signs designating the hours during which, and day or days of the month on which, parking is prohibited in order to permit city equipment to sweep the streets.
(Ord. No. NS-1782, § 3, 7-1-85; Ord. No. NS-2141, § 8, 8-19-91)
Have you had similar experiences?  Click here to contact the Santa Ana City Council. If you don't complain nothing will change!