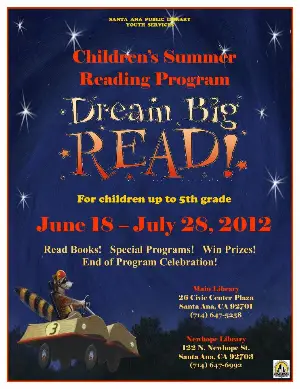 City of Santa Ana, Downtown Orange County
Community: Santa Ana Public Library Announces Children, Tween, and Adult Summer Reading Programs

SANTA ANA, CA – The Santa Ana Public Library will offer exciting reading programs this summer for children and tweens, and for the 2nd year in a row, for adults. The library is glad to be an educational beacon in our community promoting literacy and providing a fun and safe gathering place for everyone.
This year's Summer Reading Program for adults is entitled "Between the Covers". It will run concurrently with the children's program, "Dream Big-READ!" and the tween's program, "Own the Night". The programs will run for six weeks, beginning June 18 and ending July 28, 2012.
Joining the library's reading programs this summer is a great way to promote reading and lifelong learning for people of all ages. For children and tweens, participation in a vacation reading program strengthens reading skills and helps prevent them from falling behind academically. For adults, their participation provides a positive example to children and family members as to the importance of reading, while fostering individual lifelong learning.
Registration for programs begins on Monday, June 18, 2012. For more information on the Adult Summer Reading Program, call the Santa Ana Public Library at (714) 647-5264 and for the Children and Tween Summer Reading Program, call (714) 647-5258.
THE SANTA ANA PUBLIC LIBRARY IS LOCATED AT:
26 CIVIC CENTER PLAZA (corner of Civic Center and Ross)
###