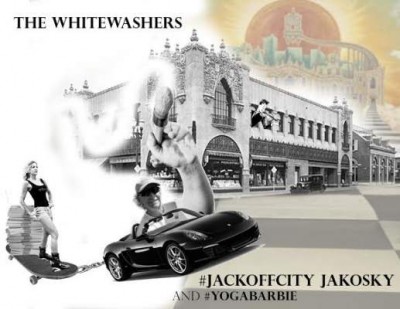 By: Theo Hirsch, Santa Ana artist and musician
On [Santa Ana] Art walk nights, Jack "JackOffCity" Jakosky sits in the Santora Basement scouring at all of the people who come downstairs with his Nazi/German [looking] girlfriend, like some paranoid wannabe-Hitler figure who can't really communicate to anyone (a guy like this would probably imprison the planet if he had the charisma to actually communicate with people). He sits there in wait to make sure that no one has any fun, and to make sure they close down the basement by 10 pm on a Saturday night art walk night.
Where does this "Jackoff" get time to suppress people's fun like that? The old owner never even came by the place, ever. I can't believe this "JackOff" doesn't have anything better to do. Or, I can't believe someone would buy a building like that, and then not want to add to what was already there instead of take it away and ruin the art scene. Or, why he would not want to get to know the community that was already going on, is beyond me.
He has made all the studios look like jail cells for a reason. Ever thought about buying a Prison, "JackOffCity?" The prison industry would be perfect for a numbers-pushing, sociopath like yourself. $70 billion a year from the drugs wars alone in that industry, "JackOffCity," you should totally look into it. Not to mention all the false arrests, and the millions of prisoners that are entirely dependent on the industry, dysfunctional and in and out of jail. I think they pay the prison owners 50K plus per year, per prisoner. I dunno, just a thought for you "JackOff." Seems like something you would be into since you seem to be into the misery of community members.
Click here to read the rest of this post.