Cecilia Aguinaga Gains Endorsement of US Representative Loretta Sanchez in Race for Rancho Santiago Community College District
FOR IMMEDIATE RELEASE Contact: Cecilia Aguinaga
September 12, 2016 (714) 478-2918

Santa Ana, CA –United States Representative Loretta Sanchez has officially endorsed Cecilia Aguinaga in her race for a seat on the Rancho Santiago Community College District Board. The Congresswoman joins a bipartisan coalition of supporters who have already endorsed Aguinaga.
"To be endorsed by someone who has been such an excellent representative for the people of Santa Ana is a true honor," Aguinaga said. "I am humbled to be supported by Congresswoman Sanchez and look forward to working to bring needed reform to our College Board."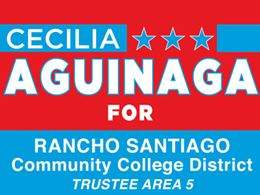 A current City of Santa Ana Commissioner Aguinaga has served as:
• Teacher Assistant, Bilingual Special Education
• Vice President, PTA District Council Board
• Boardmember, Regional Occupation Program (ROP)
• Secretary, United Mexican-American Veterans Association
• Coordinator, California School Employees Association
• President, Santa Ana Lion's Club
In addition to the endorsement of Congresswoman Loretta Sanchez, Aguinaga is also endorsed by the Faculty Association of the Rancho Santiago Community College District (FARSCCD), representing over 1,000 instructors and professors.
Aguinaga has been a Santa Ana resident for over 30 years. She earned a degree from Santa Ana College and worked 15 years for the Santa Ana Unified School District.