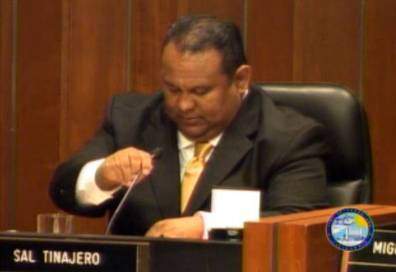 I attended two Santa Ana City Council candidate forums recently and was astonished to hear every single candidate for the Santa Ana City Council come out publicly against Measure X. Sal Tinajero, who is termed out and is running for Mayor of Santa Ana, is the only candidate still publicly backing Measure X (although he doesn't mention it on his campaign website).
It is generally a very bad idea for a political candidate to run on a platform based in raising our taxes. Perhaps this is why Tinajero's City Council candidates – Roman Reyna in Ward 4; Sandra Pocha Pena Sarmiento in Ward 2; and Nelida Mendoza in Ward 6 have all publicly turned their backs on Tinajero's Measure X.
Measure X, if it passes, will result in Santa Ana having the highest sales tax in Orange County. That will result in several awful consequences:
The poorest families in Santa Ana, who have the least access to transportation, will be stuck making all their purchases here in town – and will be paying quite a bit more for their goods and products. Sales tax increases hurt the poor the most.
Santa Ana residents who need to buy expensive items, such as new cars, appliances or furniture will buy those items elsewhere – dooming local Santa Ana businesses and costing local jobs in the process.
The higher sales tax will predictably result in less sales tax revenue and put the City of Santa Ana in an even bigger hole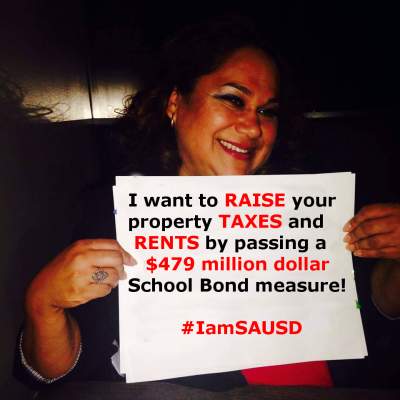 To make matters worse Tinajero's allies on the SAUSD School Board, John Palacio and Valerie Amezcua, have placed yet another bond measure, Measure I, on the November ballot as well. Measure I will raise our property taxes for the third time and saddle the SAUSD with almost a billion dollars in total bond debt. And higher property taxes mean higher rents on the horizon.
Palacio and Amezcua are up for reelection this year – and like Tinajero they now find themselves in the awkward position of promoting a tax increase while they try to connive the voters into voting for them once again.
Palacio, who fancies himself a political consultant, is, I am told, running the Tinajero campaign as well as his own and that of Roman Reyna, a former City Councilman who moved to Ward 4 this year and is also on the Nov. ballot.
Are there other ways to resolve the City of Santa Ana's financial woes? Why yes there are:
One way to collect more sales tax revenue is to make it easier for new businesses to open up in Santa Ana. Currently Santa Ana charges the most for business licenses, as compared to neighboring cities, and it takes far too long to get approval from the various city agencies involved in approving new businesses.
Roll back the raises that Tinajero insisted on giving to the City's top executives a couple years ago
Stop paying the part time City Council members a car allowance! Who else do you know that works part time and gets a car allowance? Most of the Council members tool around town in new BMWs, at our expense.
Negotiate with the city's public employee unions to get them to pay for more of their retirement benefits
Measure X is an awful idea. It is no wonder that even the candidates that Tinajero recruited for the Santa Ana City Council are against it. They have left Tinajero holding the tax increase bag…all by himself.