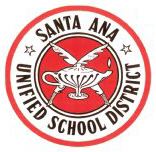 SADDLEBACK STUDENT'S ARTWORK TO BE DISPLAYED IN U.S. CAPITOL
Linda Yanez, a photography student at Saddleback High School, has won First Place in the Congressional Photography contest sponsored by Congressman Lou Correa representing the 46th Congressional District. The award ceremony was held May 20, 2017 at the Cal State Fullerton Grand Central exhibition space on Second Street in Santa Ana.
Linda is a 10th grade student who created the work, "Barrio Logan: Remembering the Fallen." The photograph depicts the commemorative community mural in the Logan neighborhood. Linda and her parents will be honored at the U.S. Capitol Building in Washington D.C. at a ceremony on June 29, 2017 and the work will be hung in a gallery/corridor setting in the Capitol Building along with student artwork from other U.S. Congressional Districts. Congratulations Linda!
In addition, artwork by 21 students from Godinez Fundamental High School was also on display during the event. Participating students included: Linda Cerrillo, Yesena Cortez, Rosemary Dias, Jerry Flores, Karla Gazano, Tanya Gomez, Ryan Guapilla, Natalie Guerrero, Jacqueline Gutierrez, Denisse (Susie) Hernandez, Kaylee Nava, Van Nguyen, Diana Nuñez, Clarrissa Nuñez, Jorge Pacheco, Thais Pena, Moises Piña, Licet Ramirez, Fatimas Rios, Alexa Rizo and Zuyapa Saavedra.