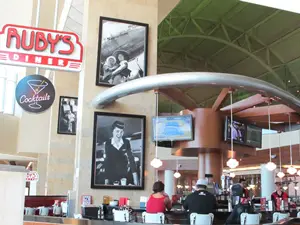 FOR IMMEDIATE RELEASE: August 28, 2012
For More Information, Contact: Jenny Wedge, John Wayne Airport, 949.252.5182, jwedge@ocair.com
Sarah Cody, HMSHost, 240.694.4403, sarah.cody@hmshost.com
RUBY'S DINER, RUBY'S TO GO AND FARMER'S MARKET BY LAGUNA CULINARY INSTITUTE NOW OPEN IN JOHN WAYNE AIRPORT
SANTA ANA, Calif. – Three delicious new dining options are now open for business at John Wayne Airport: Ruby's Diner, Ruby's To Go and Farmer's Market by Laguna Culinary Institute. Operated by HMSHost, all three venues are located between Gates 8 and 9 and opened to the traveling public on August 27, 2012.
Ruby's Diner offers a full-service dining experience as well as bar service.
See a slideshow here.
"We are pleased to join with HMSHost in announcing the opening of these highly regarded brands in Orange County," said Airport Director Alan L. Murphy. "We know our passengers will enjoy the first class food and terrific service they bring to John Wayne Airport."
"We are very excited to be bringing these three local and iconic restaurant partners to John Wayne Airport," said HMSHost Vice President of Business Development Anthony Alessi. "We are confident that they will be well received by both local and visiting travelers alike."
Ruby's menu items include delicious burgers, crisp onion rings, fresh garden salads and milkshakes. Ruby's also offers breakfast items such as cinnamon rolls and breakfast burritos for early travelers. The restaurant features a 1940's diner themed décor, with bright red vinyl booths and white Formica tables. Ruby's To Go offers delicious food for travelers in need of a quick meal.
Farmer's Market by Laguna Culinary Institute offers travelers fresh soups and salads with local California sourced ingredients. Other items include fresh fruit, local cheeses and roasted coffee. The menu items will change based on seasonal availability and will always be fresh from the farm to table.
The opening of Ruby's and Farmer's Market marks the completion of John Wayne Airport's major effort to update or replace every food and beverage venue in Riley Terminals A, B and C. For more information about all of JWA's dining options, please visit http://ocair.com/terminal/restaurants/.
# # #
About John Wayne Airport
John Wayne Airport (SNA) is owned by the County of Orange and is operated as a self-supporting enterprise that receives no general fund tax revenue. The Airport serves approximately nine million passengers annually and reaches more than 20 nonstop destinations in the United States, Mexico and Canada. More information can be found at www.ocair.com or at facebook.com/johnwayneairport or on twitter.com @johnwayneair.
About HMSHost
HMSHost is a world leader in creating dining and shopping for travel venues. HMSHost operates in more than 100 airports around the globe, including the 20 busiest airports in North America. The Company has annual sales in excess of $2.7 billion and employs more than 34,000 sales associates worldwide. HMSHost is a part of Autogrill Group, the world's leading provider of food & beverage and retail services for people on the move. With sales of over €5.8 billion in 2011, the Group operates in 35 countries and employs some 62,800 people. It manages over 5,300 stores in more than 1,200 locations worldwide. Visit www.HMSHost.com for more information. We can also be found on Facebook at fb.com/HMSHost and Twitter @HMSHost.
You can access JWA news releases at www.ocair.com/newsroom/news