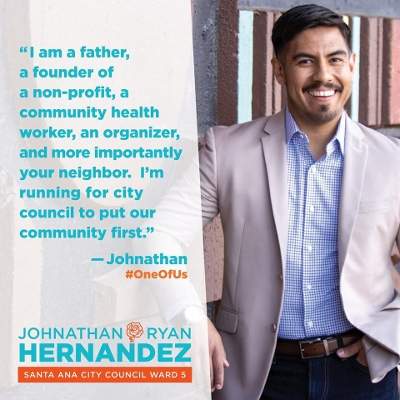 Johnathan Ryan Hernandez, a self-described Community Health Worker, has launched a campaign for the Santa Ana City Council's Ward 5, which is currently represented by Mayor Pro Tem Juan Villegas.
Here is an excerpt from Hernandez' Facebook bio:
Johnathan is a lifelong resident of Santa Ana, born and raised in the Artesia Pilar neighborhood. As a grandson of Mexican immigrants, he was raised by a hard working single mom and his grandparents. His humble upbringing allowed him to learn the importance of resilience, determination, and compassion for others.

A proud product of Santa Ana Unified School District, Johnathan attended Fremont Elementary, Spurgeon Intermediate, and Santa Ana High School. At 23, Johnathan founded a community non-profit that aims to use arts, education, boxing, and advocacy as a social change model to disrupt the system of mass incarceration.
Hernandez notes his issues on his campaign website. They include Homelessness, Investing in our Youth, Improving Quality of Life and Protecting the Environment. No word about fighting crime or dealing with the City of Santa Ana's massive budget deficit and the looming crisis caused by the City's pension and health benefits provisions for city employees.
Hernandez did not attend college, per his Linkedin Page. That same page also shows he has held four jobs since 2019 and he has a Restorative Practices Certification – which means he is likely going to hold views that may be construed as being anti-police.
There are some serious disadvantages to Restorative Justice including:
not available to all offenders, only those who have admitted their crime but victims may reject the offer. therefore cannot be a global solution
psychological harm may be brought to the victim especially if the criminal shows no empathy towards them which may result in a lowered self esteem
additionally, the offender may be harmed, the victims may gang up on the offender which is especially dangerous if the offender is a child.
victims may attempt to shame the offender which is not the aim of the process
A City Hall insider tells me that Hernandez is allied with Roman Reyna, who was defeated by Villegas a few years ago. Reyna is now prevented from running for office again after he was charged with campaign filing related felonies when he fudged his campaign paperwork in his last campaign, against now City Councilman Phil Bacerra.
Hernandez will certainly offer voters a stark contrast to the positions of Mayor Pro Tem Villegas, who works in law enforcement. Villegas studied criminal justice in college and has worked for the O.C. Sheriff for over 30 years. Check out Villegas' official bio here. He was elected to the Santa Ana city Coucil back in 2016, per Ballotpedia.