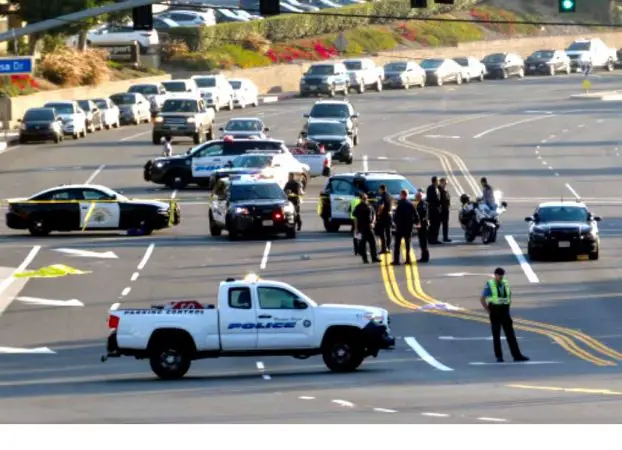 Ali Zohair Fakhreddine, a 33-year-old Riverside man, pleaded guilty on Friday to causing a deadly DUI crash that killed 72-year-old Cleusa Moraes Coffman of Newport Beach and her Shih Tzu, Bob, on Sept. 6, 2020, in an unincorporated area near Costa Mesa.
Fakhreddine was immediately sentenced to 15 years to life in prison after he pleaded guilty to second-degree murder, hit-and-run with permanent and serious injury and driving drunk.
Fakhreddine was convicted of drunken driving in a Rancho Cucamonga court, in San Bernardino County, in 2008 and in Orange County in 2015, which is why he was charged with second-degree murder instead of vehicular manslaughter in the Newport Beach incident.
DUI drivers are warned that they could face a murder charge instead of a manslaughter charge if they are involved in a subsequent deadly collision while driving under the influence.
Coffman was crossing Irvine Avenue at Mesa Street with her dog in a crosswalk when she was struck by a 2014 Hyundai about 6:34 a.m., according to the CHP.
The CHP reported that Fakhreddine ran a red light at the intersection before slamming his vehicle into Coffman and her dog and not stopping.
Fakhreddine was passed out behind the wheel of his car, which sustained front-end damage, when he was found by the Riverside police, according to the OCDA. When the police officers tried to rouse him he drove off, according to the prosecutors.
Fakhreddine had a blood-alcohol level of .10, as well as fentanyl and marijuana in his system, according to Deputy Dist. Atty. Brian Orue.
Coffman's sons tried to write an impact statement to Orange County Superior Court Judge Kimberly Menninger, but Orue said that they found it to be too painful an exercise. They did however write the following statement: "We are not going to write any statement to the court. We thought about it and it's just too painful and at the same time brings a lot of anger and frustration about the tragedy and this whole process. We tried writing but it brought back so many emotions that we had to stop."
Fakhreddine was emotional as he tried make a statement to Judge Menninger. He addressed a comment to the victims, who were not in court, "There hasn't been a day gone by that I haven't prayed for your family." He added that "Every day, I pray to God to take away your pain, your grief. I'm sorry for the mental, physical and spiritual harm I caused. I apologize for the actions I'm responsible for, for taking the precious life of [the victim]. I wish I could take them back. The decision I made that day will haunt me. I have no excuse. I have to live with that. I will pray for you to the end of my days."
He also offered to apologize publicly to the family but that request was rejected.
Judge Menninger said, "I hope and pray there is some comfort in your words" for the family. In these cases, there is no winner. Everyone suffers."
Judge Menninger also said, "Deadly crashes involving alcohol or drugs usually involve "decent people who make a horrible mistake." She added that the defendants still have to pay the consequences but also hoped that the Fakhreddine's plea and apology should be "impactful" when he appears before a parole board.
Fakhreddine was given credit for the 922 days he has spent so far in custody.