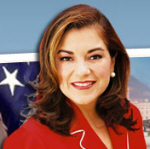 Congresswoman Loretta Sanchez, Representing California's 47th Congressional District
PRESS RELEASE, FOR IMMEDIATE RELEASE: August 1, 2011
MEDIA CONTACT: Adrienne Watson 202-309-0825
REP. LORETTA SANCHEZ STATEMENT ON DEBT DEAL
WASHINGTON, D.C. – Congresswoman Loretta Sanchez (CA-47) released the following statement regarding her vote tonight in favor of the debt deal.
"It is with the well-being of Californians in mind that I have cast this vote in favor of an increase in the debt ceiling," said Sanchez. "If we do not increase the debt limit, our economic recovery and our future prosperity will be seriously jeopardized. While this bill is far from perfect, it is the last chance we have to ensure our country has the means to pay for what has been spent, since the deadline for default is tomorrow. As we make a strong commitment to reduce our overall deficit, I will work hard with Democrats and Republicans to protect families and seniors in the execution of these spending cuts. I will continue to advocate for more effective deficit reduction measures, including the elimination of tax cuts for the rich and the end to the protracted wars in Afghanistan and Iraq."
Congresswoman Loretta Sanchez is proud to represent California's 47th Congressional District, which includes the cities of Anaheim, Garden Grove, Santa Ana, and parts of Fullerton in Orange County. She serves as Ranking Member of the House Armed Services Subcommittee on Strategic Forces and a senior member of the Committee on Homeland Security. Rep. Sanchez is also a member of the fiscally conservative Blue Dog Coalition and sits on the bipartisan, bicameral Joint Economic Committee.
# # #
United States House of Representatives
1114 Longworth House Office Building • Washington, DC 20515
Phone: 202-225-2965 • Fax: 202-225-5859