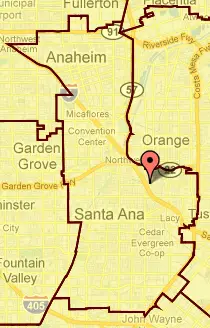 Santa Ana will continue to dominate the 69th Assembly District, in the latest redistricting proposal that is now headed for public comment.  The new district map includes all of Santa Ana, for the most part, and just a piece of Anaheim.
The Democrats ought to be able to hang on to this seat easily – and odds are that a Santa Ana Council Member will be following the incumbent, Jose Solorio, to Sacramento.
The newly proposed map is bad news though for Democratic challenger Julio Perez, who hails from Anaheim.  He is at a clear disadvantage now and will lose to any challenger from Santa Ana.
Santa Ana Councilman Vince Sarmiento appears to be getting cold feet about running, which means the candidate will likely be one of his peers.  Mayor Pro Tem Claudia Alvarez and Council Members Michele Martinez and Sal Tinajero, as well as David Benavides, are all in the running but only one of them will emerge as the candidate.  We won't know which for awhile yet but will definitely be reporting that outcome when it happens.