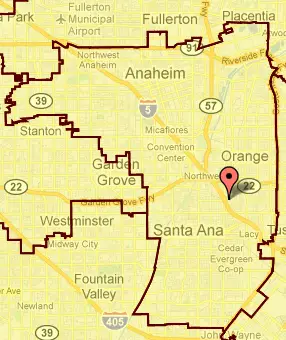 The last round of redistricting deliberations has split Little Saigon into two Congressional districts – and then splits the Viet vote even further by putting Fountain Valley into a third district.
This is good news for the incumbent in the 47th Congressional District, Loretta Sanchez, who now will barely have much of Little Saigon in her district.
Most of Little Saigon is now going to be dumped into a district dominated by Long Beach which means that district would likely elect a Democrat.
The 47th will now be a tussle between politicians in Anaheim and those in Santa Ana – but Sanchez is likely to remain firmly entrenched as the OC GOP just can't seem to dislodge her.
The redistricted map is terrible news for last year's Republican nominee, Van Tran, who has no reason now to take on Sanchez again.  His prospects in the new Long Beach dominated district are bad as well.  He appears to be finished.
O.C. Supervisor Janet Nguyen could still take on Sanchez, but she is now better off running for reelection.
I would expect that Tran and his allies will sue to overturn the redistricting.