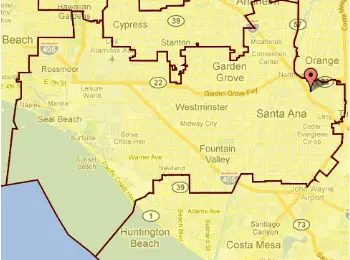 The final proposed redistricting of the 34th State Senate District is now headed for the public comment phase, but I doubt it is going to change much.  The new district has changed in shocking fashion. No longer does it stretch all the way up to Fullerton.  Instead it has grown westward and now includes a chunk of the coast, including Seal Beach and part of Huntington Beach.
The new district has a slight Democratic voter edge, according to the O.C. Register.  And it appears to include all of Little Saigon, including other communities with large Vietnamese communities in Fountain Valley and southwest Santa Ana.
This seat comes up for grabs in 2014.  Assemblyman Jose Solorio will term out in 2012 – and it appears that he will be content to sit out for two years then run for this new State Senate seat.  He will likely face off with Republican Assemblyman Jim Silva, whose district currently encompasses Huntington Beach.
Silva versus Solorio will be an odd race.  They are both diminutive and are known for being nice guys.  Silva has a shaky track record as a former Supervisor who voted for the O.C. Project Labor Agreement, which banned non-union contractors from bidding on County Public Works projects for a few years; and he also voted for the pension spike, that has had ruinous consequences for public budgets.
Solorio will have a tougher time of it, even with a Democratic voter edge, as he will be out of office for two years.  He could run for the SAUSD School Board in the interim, and easily win, but I doubt he will as his wife is an SAUSD teacher and there would be a conflict of interest if he was on the School Board.  She would have to go to another school district.  It is far likelier that he will resort to lobbying or maybe return to the OCTA for a spell.
Who else might run for this new seat?  Well it sure looks like Vietnamese American candidates would have an edge in this district.  There are a lot of Viet politicians in the district who could run for the seat.  The OC GOP will try to keep other Republicans out of the primary, but considering how squishy Silva is there is certainly room for a conservative nominee to take him on and beat him.