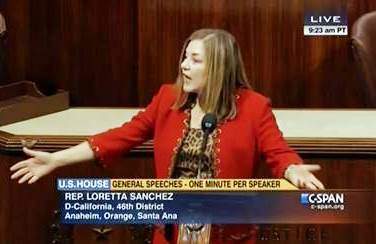 Congresswoman Loretta Sanchez, Representing California's 46th Congressional District
Press Release
FOR IMMEDIATE RELEASE: January 14, 2015
MEDIA CONTACT: Barb Solish, 202-226-8373. Barb.Solish@mail.house.gov
REP. LORETTA SANCHEZ: HOUSE GOP HITS NEW LOW WITH DANGEROUS ANTI-IMMIGRANT VOTE
WASHINGTON – Congresswoman Loretta Sanchez (CA-46), senior member of the House Homeland Security Committee, today criticized House Republican's partisan vote to roll back Obama's executive actions on immigration, including the 2012 Deferred Action for Childhood Arrivals program.
"Today's vote confirms that Republicans are willing to do anything, including endanger our national security, to score political points through anti-immigrant measures," said Rep. Sanchez. "They have no shame. No tienen verguenza."
Yesterday, Rep. Sanchez spoke on the House floor in opposition to the measure. The image links to a video of her speech and the transcript follows.
Photo
"The Republican majority has decided they're willing to shut down the agency that detects, deters and responds to threats to our Homeland. With an elevated terror-alert status and in light of the devastating attacks in Paris, they must have a good reason, right? Wrong.
"They're holding essential anti-terrorism funding hostage because they want to score political points. They're stopping programs our law enforcement rely on because they want to deport DREAM Act kids. They're putting our homeland security – our entire way of life – at risk because they want to separate mothers from their children.
"There is a phrase in Spanish that describes this behavior: "no tienen verguenza." They have no shame.
"Stop playing games with our national security; put forward a clean funding bill."
###
Congresswoman Loretta Sanchez is proud to represent California's 46th Congressional District, which includes the cities of Anaheim, Santa Ana, and parts of the cities of Garden Grove and Orange in Orange County.