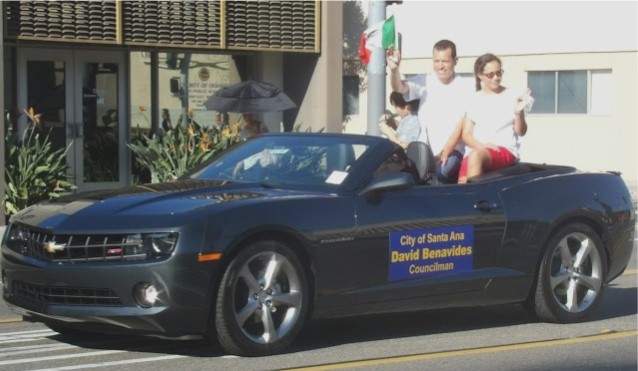 We recently reported on a story that has been rippling through Downtown Santa Ana.  The City of Santa Ana's contract with their Fiestas Patrias and Cinco de Mayor entertainment manager, MXLive is ending this year. Our post about this that apparently offended MXLive and Santa Ana Councilman David Benavides.
We received separate letters from the attorney for MX Live and from Councilman David Benavides this Friday, curiously within hours of each other, via email.
The attorney for MX Live is "respectfully demanding"  that, pursuant to California Civil Code section 48a.3, we retract and correct on our blog these statements: (i) MX Live has bribed David Benavides or any other elected official in any amount; and (ii) MX Live is not paying its taxes.
We never said that Benavides bribed anyone or that MX Live did not pay their taxes.  We said that there were allegations of such activity and our readers piled on with comments supporting this. However, in the interest of putting this issue aside we have deleted the post in question and the comments and we are writing this post so as to make it clear that we are "retracting and correcting" the above.
As one might expect, Benavides has a few demands as well. He would like for us to retract the following statements:
"There are unsubstantiated rumors that MXLive pays Councilmember Benavides $20,000 cash after each event"
"Benavides allegedly acts as MXLive's agent by seeking sponsors."
We also stated that "Benavides…tried to sell their Santora Arts building to his Church – a move that might have made him thousands of dollars in commissions as he is a Realtor." Benavides says that he was never a party to the potential sales transaction involving the Santora building.  He also says that "I did not bring parties together, had no involvement whatsoever in the sale and would not have made a dime had the sale gone through."
We would as such like to retract the above statements as well, although they were clearly written as conjecture and opinion (that is why we used words like "allegedly," "unsubstantiated," and "might have").
Furthermore, Benavides is demanding that we also must acknowledge that:  "(i) l have never accepted or received any funds in connection with the MXLive agreement with the City; (ii) l have never acted as an agent of MXLive and; (iii) l had no financial interest whatsoever in the potential sale of the Santora Building. These retractions must be published no later than two weeks from the date of this letter."
OK.  We hereby acknowledge the above statements by Benavides.