FOR IMMEDIATE RELEASE: Dec. 26, 2012
FOR MORE INFORMATION: Joel Zlotnik (714) 560-5713, Laura Scheper, (714) 560-5697
OCTA Rings In The New Year With Free Bus Rides
OCTA plays designated driver for 11th year
ORANGE – The Orange County Transportation Authority (OCTA) is helping make end of the year celebrations safe and hassle-free by providing free bus rides between 6 p.m. on New Year's Eve, Dec. 31 and 2:30 a.m. on New Year's Day, Jan. 1.
"We are pleased to once again give residents a convenient way to travel this New Year's Eve," said OCTA Vice Chairman Gregory Winterbottom. "We encourage those out celebrating to leave the driving to OCTA and enjoy a free ride on the bus."
Last year, there were more than 16,000 free New Year's Eve boardings and more than 120,000 boardings since the program began in 2002.
For more information on New Year's Eve service and to check bus routes and schedules, visit OCTA's website at www.octa.net or call (714) 636-7433.
# # #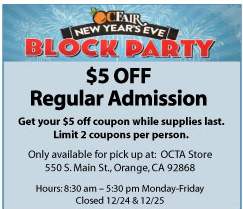 Looking for something to do for New Year's?
Check out these ideas below. Make sure you check your arrival and departure bus trips to ensure your safe ride home. Not all bus routes run late hours:
OC Fair New Year's Eve Block Party
Held at the Orange County Fair Grounds from 7:30 pm – 1:30 am on December 31 this event boasts live music on four stages, food truck, dancing and more.
Bus routes: 47, 55 and 178.
Knott's New Year's Eve
Knott's Berry Farm will have something for the entire family this New Year's Eve with a variety of dance music, a family friendly comedian, music, plus Knott's rides, attractions and a Midnight Mayhem Fireworks Show in Calico Square to make Knott's New Year's Eve celebration the place to ring in 2013.
Bus routes: 29 and 38.
OCTA Wishes You a Safe and Happy New Year!